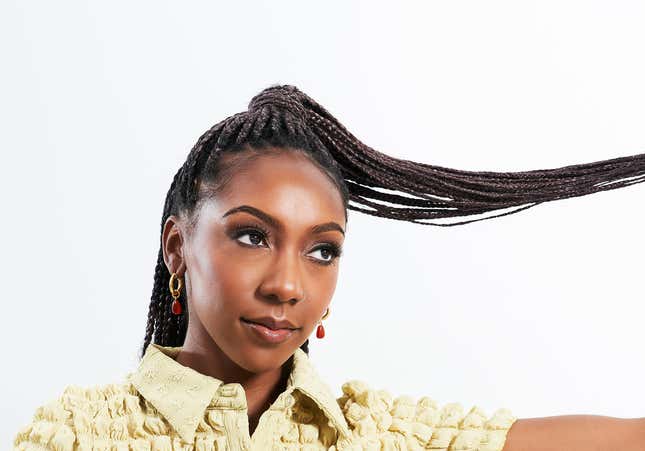 This story is part of our new Start. Build. Grow. series, a celebration of August's Black Business Month.
A Simple Ponytail Hack For The Summer While The Silk Press Is On Pause
After generations of damaging the crowns, follicles and overall health of women of color, the word is out about the dangerous connection between chemical hair straighteners and certain forms of cancer.

But what gets less attention is the harmful impact synthetic hair has on our health and our environment. Many women experience scalp irritation and other issues related to the use of synthetic hair. And when it's removed, the unused hair is left to clog up landfills that release harmful toxins into our air.
Enter entrepreneur Ciara Imani May, whose brand Rebundle, seeks a solution to the conundrum of hair extensions by looking to another trend: plant-based products.

Rebundle sells plant-based hair extensions marketed as both safe and comfortable for the wearer. The company only sells directly to consumers through its website, cutting out the middleman of retailers and distributors, and to keep it collective, May also keeps an online directory of partner braiders around the country.
With over 25,000 followers on Instagram, Rebundle's mission of reducing the impact of synthetic hair on the environment one bundle at a time is catching on.
The Root caught up with May about how she's built a business that's better for the planet and Black women's health.
The Kansas City native says the idea for Rebundle came while she was pursuing a master's degree in social entrepreneurship.
"The idea came from my own experience wearing hair extensions and going through scalp irritation and rashes," she said.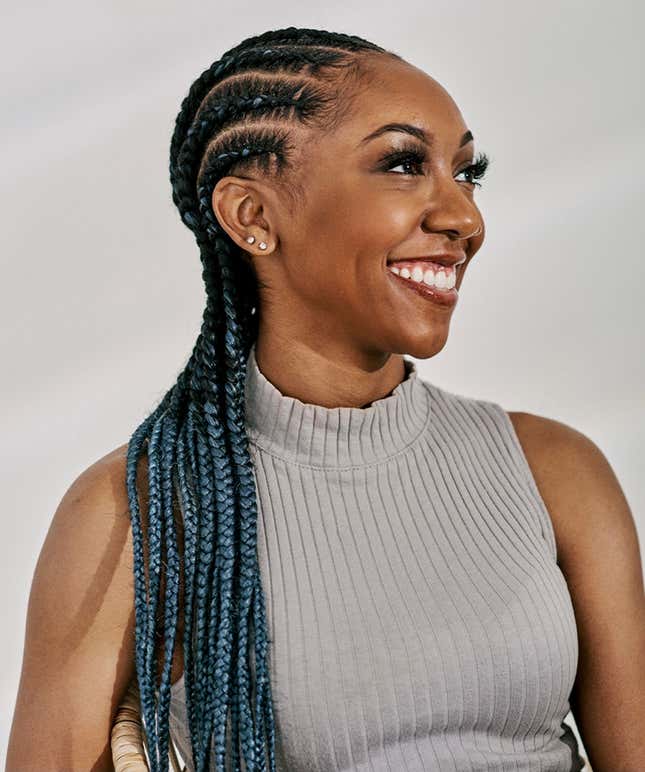 While researching other options, May learned that the synthetic hair most braiders and stylists use contains toxic plastic materials that cause harm to the wearer and the environment. The disturbing discovery got her thinking about an affordable, sustainable alternative to the dangerous brands prevalent in our communities.
The result was braidbetter, Rebundle's lightweight, itch-free and biodegradable hair bundles made from recycles materials and naturally extracted banana fiber. "We're constantly in research and development to get the bundles as hairlike as possible and maintain certain values that we hold true, like non-toxicity," she said. "We're making this product for use, so somebody has to want to wear it and look and feel good in it."
May's commitment to sustainability comes through in every aspect of the business. Rebundle maintains a plastic synthetic hair recycling program for customers. Unwanted hair gets a new life when it's recycled into things like outdoor furniture and decking. So far, the program has recycled over 450 pounds of plastic synthetic hair.
"We want to help maintain accountability for the waste that's already in existence in the ecosystem. But It's also a way for our community to choose sustainability even if they're not ready to make the switch to plant-based hair. They still have the opportunity to do some good for the environment."
Looking ahead, May wants to expand her product offering and continue to lead the effort to make hair bundles that are both safe and stylish.
"I think we're pretty hell-bent on having a significant impact on the health and environmental impact that hair extensions are having on us. But we also want to change the way we experience buying and disposing of our extensions and who's involved. We want to have more ownership in how the business is conducted overall," she said. "It can be hard for a business to make profit and sustainability align, but when they do, it can be something amazing."