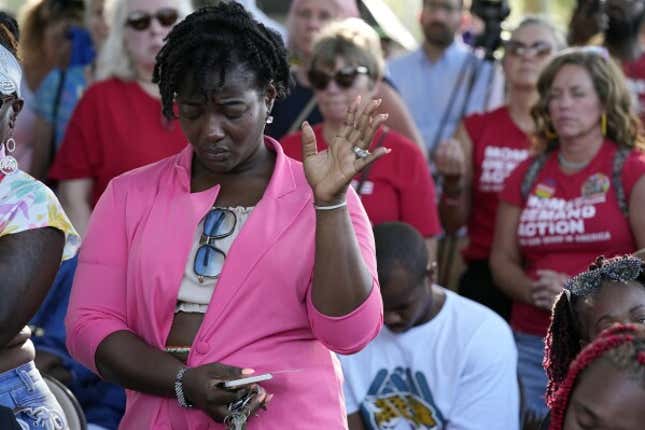 When 21-year-old Ryan Palmeter walked into a Dollar General in Jacksonville, Fla., he spared a Black mother and her daughter, telling them to run if they didn't want to get shot. At the time, she said she didn't know it was a racially motivated massacre. Her only goal was to get out of there.

Small Town Horror Story: The Mississippi Burning of Three Anti-Segregationists
Mercedez Jones told News4Jax she was shopping for art supplies with her 2-year-old daughter when she heard gunshots go off aisles over. She caught a glimpse of Palmeter from behind the store, decked out in a bulletproof vest and the "biggest gun she'd ever seen" strapped to his shoulder. Jones said he walked up to her and three other women employees who were hiding in the back of the store.
"If you don't want me to shoot you, run," Jones recalled the shooter saying.
Following that moment, Jones said she ran with her daughter, falling on her way and scraping her knees. She was even frightened upon being rescued by the police because they showed up in the same tactical gear. However, Jones told reporters she's had trouble locating assistance to recover from the trauma of coming face-to-face with a violent, racist killer.
She's not the only one burdened with the trauma of a racially motivated tragedy. Felicia Sanders was spared by Dylann Roof the night he stormed into a Bible study at Emanuel AME Church. Her son was murdered in the incident but she told TODAY she couldn't separate his loss from the others.
"I carry the burden of all nine. I didn't apply for this job. The nine people who died, any one of them would've been terrific at it, but then here comes little old me and Miss Polly," said Sanders. She also said she didn't want to be regarded as "that Felicia who went in the church and survived."
Fragrance Harris Stanfield and her daughter survived the mass shooting at Tops supermarket in Buffalo. She told ABC News she's felt "invisible" following the incident, due to a lack of attention to the survivors living with the flashbacks of what happened.
"It's a heavy situation to live with. It's not that you wish you died. It's not that you have remorse that you lived. It's that you are living with this and you have to find a way in your mind to be OK with that. You have to be OK with the fact that you've made it out," Harris Stanfield told ABC News.