The American Civil Liberties Union, a nonprofit law firm and 26 former judges and prosecutors have asked the U.S. Supreme Court to intervene in the case of a man sentenced to 241 years for being an accomplice to a robbery when he was a juvenile.
The St. Louis American reports that in 1995, Bobby Bostic and a friend committed a pair of armed robberies in St. Louis. Although he was only 16 and prosecutors knew that 18-year-old Donald Hutson was the main participant, Bostic was tried as an adult, despite the fact that no one was harmed in the crimes.
Bostic confessed; Hutson refused. During the sentencing phase, Bostic apparently caved in to peer pressure and refused to accept the 30-year sentence in a plea deal.
"I saw your lawyer and people from his office trying to talk to you," said the judge at sentencing. "And you dismissed them because you knew more than these trained legal minds because of your brilliant friends in the workhouse who wouldn't be there if they were so smart." The judge sentenced the teenager to nearly two-and-a-half centuries in jail, while his co-defendant received 30 years.
G/O Media may get a commission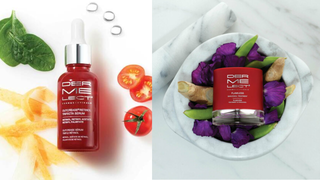 Save $19
Retinol Renewal Kit
The ACLU of Missouri, along with 26 attorneys—including two former U.S. solicitors general, a former chief justice of the Missouri Supreme Court and two state attorneys general—has asked the Supreme Court to reverse the decision of the Missouri Supreme Court, which upheld Bostic's sentence. They argue that the Supreme Court's decision in Graham v. Florida dictates that sentences of life without the possibility of parole for juvenile nonhomicide offenders violate the Eighth Amendment.
Bostic has already served 21 years of his sentence and has been a model prisoner, according to his attorneys. He has completed numerous institutional programs focused on rehabilitation and restorative justice, earned his high-school-equivalency certificate in 1998 and a paralegal diploma in 2010, and completed college courses in victim advocacy and business studies.
Bostic* will be eligible for parole in 2o91, when he is 112 years old.
When reached for comment, Lady Justice said: "I know I'm supposed to be blind, but damn!"
*I forgot to include the fact that Bobby Bostic is black. Also missing from the above story is the fact that water is wet, fire is hot and racism is real.