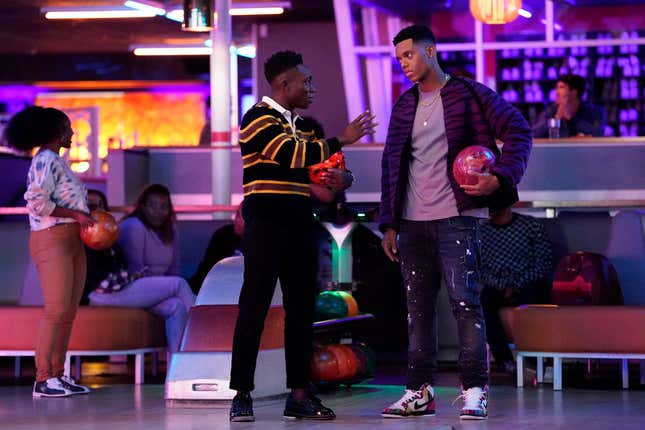 From Dynasty, to Empire, to Succession, TV history is full of powerful, messy families. No matter how crazy your family dinners get, you still have nothing on the Roys. They stab each other in the back the way other people buy birthday presents. For the most part, this genre tends to revolve around white characters. It's only been in recent years that Black families have joined the fray. With HBO's award-winning drama, Succession, returning for its fourth and final season on Sunday, March 26, we thought it was time to highlight TV's five most memorable powerful Black TV families.

Rings of Power's Queen Miriel, Cynthia Addai-Robinson, Plays That's So Random
Bel-Air - The Banks
On The Fresh Prince of Bel Air, the Banks were portrayed as comfortably rich. However, on the drama Bel-Air, they are definitely wealthy. Their mansion is ridiculously lavish, Phil bribed Carlton with a trip to the Grand Prix at Monaco and Ashley's birthday party took place on a yacht. It's clear that in the years between the original and the update, the Banks leveled up big time.
Bel-Air is available to stream on Peacock.
Empire - The Lyons
From the moment we met Lucious Lyon and his sons, we knew they were among the most influential names in the music industry. Then Cookie came along, and she was obviously the brains of the operation. Despite their non-stop in-fighting and betrayals, their talent and connections made them mainstays in the entertainment world. Though many tried, the Lyons just seemed impossible to completely bring down.
Empire is available on Hulu.
Queen Sugar - The Bordelons
The Bordelons may not be considered as traditionally powerful as these other families, but their ability to stay united led them to regain their own farm, and help the neighborhood co-op get back its rights. Plus, Hollywood's shop and Aunt Vi's cafe are crucial to the community. Even Nova got a happy ending when she inherited her mother's old house and finally felt like she was home.
Queen Sugar is available on Hulu.
Greenleaf - The Greenleafs
We all know how important the families behind megachurches can be. But, we've also heard the stories about how messy these organizations can be. If you thought Succession was a lot, you definitely should check out Greenleaf. This family hasn't met a rule or commandment they haven't broken. And Brian Cox's Logan Roy wouldn't last two minutes with Lynn Whitfield's Mae Greenleaf. She'd eat him for breakfast.
Greenleaf is available for purchase on Prime Video.
The Young and the Restless - The Winters
Daytime TV basically revolves around power families like the Quartermaines, the Chandlers and the Newmans. For a very long time, Black families were not portrayed on that same level. However, The Young and the Restless' the Winters featured corporate executive Neil, fashion model Drucilla, their daughter Lily and son Devon. Alongside Neil's brother Malcolm and Dru's sister Olivia, the Winters had just as many ups and downs as their white counterparts. Having them on television every day was a game-changer for soap operas. It led to Black characters actually getting stories and being seen as more than just the white lead's best friend.
The Young and the Restless is currently streaming on Paramount+.