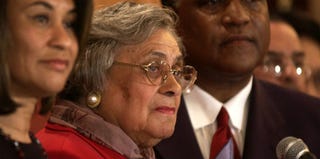 Essie Mae Washington-Williams had a decades-long career as a schoolteacher in Los Angeles, but she'll likely be remembered most as an emblem of the hypocrisy of her father, the late onetime segregationist, U.S. Sen. Strom Thurmond of South Carolina.
Thurmond kept Washington-Williams, the daughter he fathered with his family's African-American maid, a secret for more than 70 years. She died Monday at age 87. From the Huffington Post:
Vann Dozier of Leevy's Funeral Home in Columbia said Washington-Williams died Monday. A cause of death wasn't given …

There had been rumors for decades in political circles and the black community that Thurmond had fathered a daughter by a black woman. But Washington-Williams did not come forward and identify Thurmond as her father until after his death at age 100 in 2003.

Washington-Williams spent decades as a school teacher in Los Angeles. Thurmond was South Carolina's governor and for a time was the nation's longest-serving U.S. senator.
Read more at the Huffington Post.