In his myriad years in the music industry, Steve Stoute has proven himself a major player and a game changer, too. Hailed as a marketing genius by some, the man who began his career as road manager for Kid & Play has grown and evolved to become a label exec, an advertising mogul and, now, a man who is at the fore of a new one-stop-shop that uses technology to serve artists.

Stoute, a Queens, NY, native, is really the bridge, the plug, the connection between artists and brands. In short, he has allowed long-forsaken-and-taken-advantage-of artists to leverage their cultural capital into capital capital through lucrative brand partnerships. His cultural reach is formidable. The "I'm Loving It" jingle with Justin Timberlake for McDonalds? Steve. Jay Z's and 50 Cent's first foray into their own sneakers back in the day? Steve. The "Wassup?" campaign flight for Budweiser? Steve. The recent Dapper Dan and Gucci collabo? Yep, you guessed it. Steve.

Stoute left the music industry some years ago and pivoted to advertising, where he was able to do much of his branding work with his agency, Translation, but late last year, the 48-year-old quietly made a comeback to music with a new venture, UnitedMasters, snagging a $70 million infusion of funds from venture capitalists such as Alphabet (Google's parent company), Andreessen Horowitz and 20th Century Fox.
UnitedMasters was launched as an online hub for independent artists (i.e., those not signed to a major label) and uses technology to do everything from uploading their music, to identifying superfans, getting paid, and of course, working with brands. Stoute opines that as artists begin to finally understand their power, that traditional record label deals will soon be moot.
"I've never seen more artists turn away record deals," he told The Root, naming Iggy Azalea's recent tweet about going independent, Young Dolph turning down $22 million from a major label, and of course, Chance the Rapper, who won a Grammy without ever being signed. "I think that the traditional record company's foothold on having artists and owning their masters and the way they traditionally monetize that stuff … I don't think they can do [that] any longer," says Stoute. "I think the artist community isn't willing to give up margins of that magnitude any longer. It's changing."
G/O Media may get a commission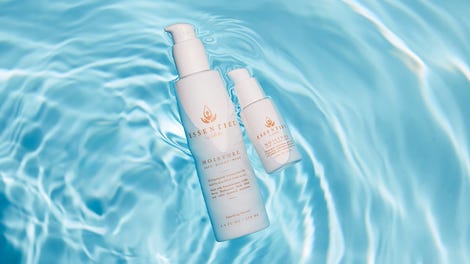 20% off
Essentiel by Adele
With UnitedMasters, Stoute says he will be giving artists what he deems "operational independence," noting that most don't have the time, or skills, to do for themselves what record companies made more than a pretty penny from providing.

"When an artist goes independent, they want to do it, but lack the tools, lack the infrastructure," Stoute explains. "When we decided to do this, we know we had to make it easy for artists … Really give them an opportunity to do all the things that they want to do but make it easy as possible so that it wouldn't stop them from trying to go down that route because they felt that the path was too difficult."
With UnitedMasters, there are no upfront fees required from artists, and, as reported by Forbes:
...artists receive 90% of their revenue; the company takes 10% as a distribution fee. Stoute is betting UnitedMasters can be the connective tissue between artists and the constellation of new platforms combining to match radio's reach. In addition to the NBA, he sees video games and influencer videos as areas in which UnitedMasters could explore similar deals.
In addition to the traditional tools for independent artists, Stoute is also offering those artists signed to UnitedMasters major branding opportunities, and the first of those collaborations is major. Last Thursday, Stoute announced a partnership with the NBA.
If an artist is chosen for the NBA venture, their songs will be tagged or mentioned in select NBA highlight videos, along with a link back to the song directly. From there, viewers and fans will be able to follow the artist and learn more about her work. The artist would have the chance to be seen by more than 1.5 billion fans on all of its platforms, including the NBA app, NBA.com, Twitch, Facebook, Instagram, YouTube, and Snapchat.
For the NBA, Stoute says he's looking for music that appeals to youth culture as well as "tempo and movement and [being] upbeat." He likens the NBA to MTV back in the day in that it drives culture.
"When I look at the highlights, the NBA footage, I look at what people comment on, what people are paying attention to ... they're looking at the players coming through that hallway with their clothes on; what they're listening to, what they're wearing," he says. "That's what I used to do when MTV was rolling; you'd watch to see what was the right clothes, obviously what was the right music and you would talk about it. And that's exactly what people do with the NBA today. It's the same characteristics and why wouldn't we put music behind that? Why wouldn't we want to take these artists and make them the soundtrack to those visuals?"
As someone who has honestly pushed the culture forward in many ways, we asked Stoute what will separate his company from a sure glut of competitors and imitators to come.
"I think there's some things that we have that are unique to us, A and B, I think there's so much room in the marketplace because you talk about an industry that's been operating the same way for over 60 years," he begins.

"But there's so much opportunity because the traditional record labels business model—there could be 20 companies like mine and still prosper. So I'm not necessarily thinking that we are the say all and be all and end all of independent distribution, but I think we are a distributor, we have a specific take in which we're leaning in on technology; we're leaning in on brand partnerships ... I think that's specific to us. But I don't want to sit here and say no one else can do it or anything like that because I'm a believer that anything is possible."