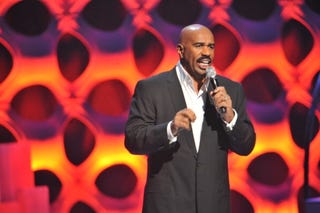 It's official: Steve Harvey the comedian is a relationship guru. Although he has been hugely successful in the black entertainment world, his relationship book Act Like a Lady, Think Like a Man has catapulted him to a level of success that transcends all categories. The book that he wrote after an incident with his daughter has given a man whose career success should admittedly be declining a greater career trajectory. Harvey has a new book out, Straight No Chaser: How to Find, Keep and Understand a Man, which picks up where the other book leaves off. His prior book has had 50 printings and has sold more than 2 million copies.
Some critics question whether we should be taking relationship advice from a man who has been married three times and is a comedian. Others argue that it is just that type of person who can help people sidestep relationship issues. Whatever the case, what Harvey has written has spoken to many different types of people. We're just waiting for a rleationship book written for men, since women can't possibly be the only gender in need of advice.
Read more at USA Today.