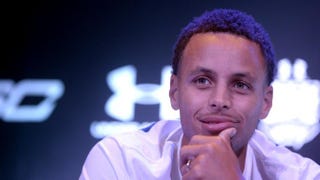 Take that, Charles Barkley. You know, Sir Charles who said that the Golden State Warriors' Steph Curry "is just a great shooter, nothing more."
Well, he got one part right.
Said shooting couldn't have gotten greater than the def defying 3-point shot Curry sank from 32 feet out with seconds left in overtime last night, effectively muting all that Oklahoma City Thunder, 121-118, in Oklahoma City.
From LeBron James: "@StephenCurry30 needs to stop it man!!!" And Dwyane Wade: "Curry is UNREAL," on down to Kristaps Porzingis: "Is this real life?" The NBA had to give that man his props and took to social media to let it be known that Steph Curry got the shot—in real time.
Bleacher Report notes that Curry "finished with 46 points … went 12-of-16 from distance, which tied the record for most triples in a single game." Oh, and he also "broke his own record for threes in a season, as he now stands at 288 total triples made."
See the amazing shot below:
Read more at Bleacher Report.