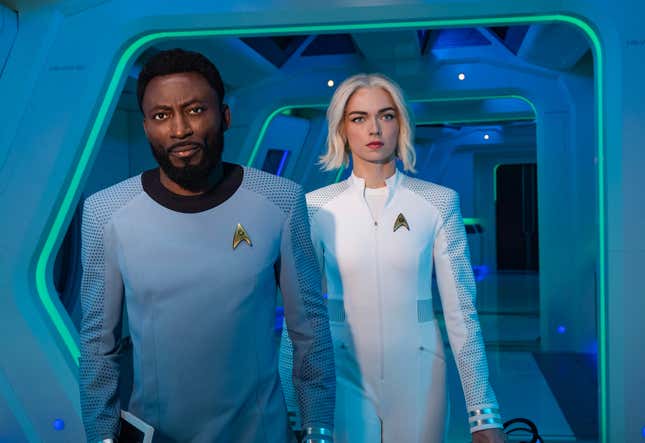 As Star Trek: Strange New Worlds begins Season 2, we move past the introduction of the Enterprise crew into examining their deep bonds and how far they'll go to protect one another. One of the show's most fascinating friendships is between Dr. M'benga and Nurse Chapel. There's an easy respect between the colleagues that typifies Star Trek's long history of showing us the world we wish we lived in. Apparently, in the future, there's no nonsense workplace bullshit to deal with. Strange New Worlds stars Babs Olusanmokun, who plays M'benga, and Jess Bush, who plays Chapel, spoke with The Root about the characters' partnership, as well as their Season 2 shift into action hero mode.

Celia Rose Gooding Talks Strange New Worlds & If She'd Fly In An Elon Musk Rocket
From The Original Series' McCoy, to The Next Generation's Crusher, to Deep Space Nine's Bashir, to Voyager's all too human Emergency Medical Hologram, Star Trek has a storied history of fantastic doctors. In Season 1, M'benga's compassion and selfless nature established him as a worthy inclusion in this lineup. During Season 2, he continues his character evolution by showcasing the warrior beneath the healer, a welcome reveal for viewers. In the first episode, he and Chapel have a particularly thrilling fight scene, as they make a bold move to save the rest of the Enterprise crew.
"There's gonna be clear intellect, plus physicality. It's exciting, it's lovely, it's dynamic. It's kicking ass, but there is more under it than just kicking ass," Olusanmokun told The Root. "It's protecting those around him. It's protecting his shipmates, so it's really fun. I love it. I can do it all day. It's just a wonderful part of the work that we got to experience right from the first episode for Season 2."
The way they move together in the fight scene highlights the trust and respect between the two, which is a central piece of both their characters' journeys. Technically, M'benga is the doctor and Chapel is the nurse, but they are never presented as anything less than equals. He never hesitates to leave the ship for an away mission because he knows that Chapel has it covered. M'benga is also perfectly OK to step back and let his partner take the lead when she's the expert in a case. There's no ego or hierarchy between them.
"I think there's a lot of respect there. I don't think M'benga's a guy that's enamored with titles. There's a lot of history and there's a lot of respect," he said. "When you trust people, you just appreciate whatever they bring to the table, whether they are beginner or advanced. That relationship is very much layered with the utmost respect for each other in the workplace."
Bush believes the longtime friends have a deep understanding of one another that makes their partnership work so well. The trust that Olusanmokun discussed is second nature to the duo and at this point, can't be broken.
"Chapel and M'benga have been through a lot together and have a history that goes back a long way. They've been through some really hard things, had to make some big decisions, and through that they know each other very deeply," Bush said. "Whatever professional title they have is second to that. They can almost function as one and understand what the other person needs in any pressurized situation, which is really beautiful. And has been really cool to find with each other."
Star Trek: Strange New Worlds premieres new episodes every Thursday on Paramount+.