St. Louis, Mo., police are still looking for a suspect in the case of a black 17-year-old boy who was shot and killed on his birthday last weekend.
According to the St. Louis Post-Dispatch, Armond Latimore was shot outside of a chop suey restaurant, Bing Lau, on Saturday, where he had gone to pick up food while his mother went to a nearby store to pick up ice cream to go with her son's birthday cake.
"He told me that he wanted ice cream," his mother, Chandra D. Payne told the Post-Dispatch. "I went to Save A Lot and three minutes later I received the call."
He was pronounced dead once he arrived at the hospital.
Just one hour earlier, Latimore posted on his Facebook page, "Thru all the bullshit I den been thru I'm just glad I can say I made it to see 17."
G/O Media may get a commission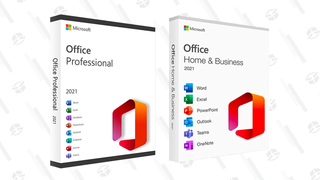 89% off
Microsoft Office Professional 2021 Lifetime License
After her son's shooting, Payne found a note in Armond's room in which he wrote about a bully harassing him. It was the first she had heard of any trouble with her son, who never discussed the bullying with his family, Payne told the Post-Dispatch.
"He was always a helping-hand child," she told the paper. "He would cut grass, wash your car or sell water. He loved music and loved money and always made it the right way."
She added that concerned friends have pointed out photos from Armond's Facebook page which allegedly show him posing with a gun and lots of cash. But Payne refutes that portrayal of her son, saying Armond "never owned a gun, and the money belonged to someone else," writes the Post-Dispatch.
On Wednesday morning, police found a maroon Pontiac G8 they believe is connected to Armond's death. As the Riverfront Times reports, the sedan was stolen at gunpoint earlier this month, and police say the car was used on Saturday in Armond's killing.
When law enforcement found the vehicle, there was no one inside.
The Post-Dispatch reports that Armond's death is among 110 murders in St. Louis so far in 2018. Over the last few years, the city has had among the highest murder rates in America. A recent article from the Trace examining murder rates across major metropolitan areas listed St. Louis as the deadliest city in the U.S. in 2017.
Less than half of those 110 murders in 2018 have been solved, writes the Post-Disptach.
Anyone with information can contact CrimeStoppers at 866-371-8477. Tipsters can remain anonymous.