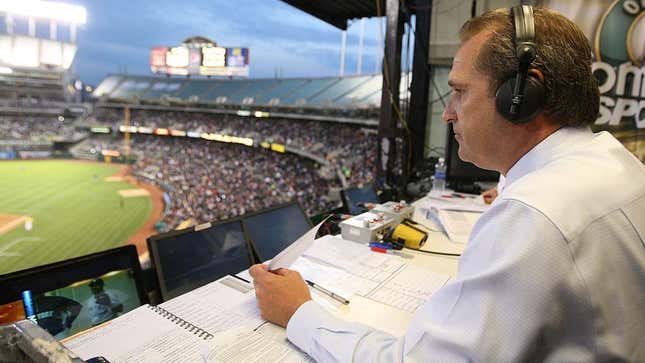 Despite the many things wrong with baseball, especially when it comes to African American players, they seem to have done the right thing when it comes to Glen Kuiper.
New Grails Docu-Series Explores 2 Black Entrepreneurs' Mission To Change Sports Fashion
Don't remember who he is? Kuiper was the Oakland A's play-by-play announcer who referred to the Negro League Baseball Museum in Kansas City, Missouri, as the "Nigger League Museum" while he was discussing what he and his co-host, Dallas Braden, did ahead of the A's matchup with the Kansas City Royals.

Initially announced that he would be suspended from on-air, NBC Sports California revealed Tuesday that the long-time play-by-play announcer idiot had been fired for using the N-word during a live broadcast.

"Following an internal review, the decision has been made for NBC Sports California to end its relationship with Glen Kuiper, effective immediately. We thank Glen for his dedication to Bay Area baseball over the years," the station shared in a statement.

Although it took nearly three weeks for the local news station to decide, they ultimately did the right thing. The issue was that he not only used the racial slur, he did it without hesitation, like he didn't even make a mistake.
For the people arguing, "It was an accident. It just slipped out." Those words don't slip it out unless it's in your normal diction. Do you just slip out calling a woman you know by name a bitch? I doubt it unless that's something you normally call her.
While Kuiper got the ax, his co-host, Braden, still seems to be employed by NBC Sports California. One of the other issues people, including myself, had with the clip was that he had no reaction to Kuiper's use of the racist term.
Shortly after Kuiper was suspended on May 7, Braden released a statement the following day to explain that he did not realize what his co-host had just said.
He wrote, "The nuances of live television mean that sometimes we, as broadcasters, miss some of what you, our audiences, hear. We have producers speaking in our ears about what is next, we are formulating our words to articulate our thoughts, we are moving direction from camera to camera, we are waiting for cues, we are checking sound. We have lots going on that is not always visible to our audience."
While I don't think he should be suspended or fired, it was alarming that Braden just nodded his head as if nothing had happened. But as long as he doesn't just "slip" out that word again, we should be all good.