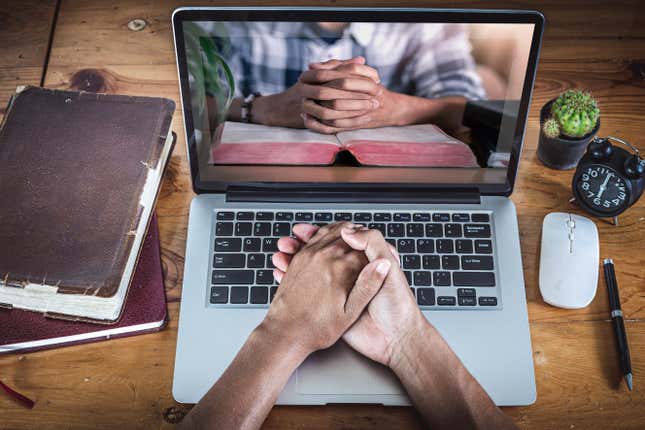 A Dark Day

When COVID-19 first came barreling through the United States in March 2020, its impact on Black churches was nothing short of catastrophic.
Tackling A Black Maternal Health Crisis & Embracing Reproductive Justice | The Root Institute
It was a "dark day," said Dr. W. Franklyn Richardson, chairman of the Conference of National Black Churches. "Churches were empty. People lost their jobs. People were dying and there were no funeral services." As pastor of Grace Baptist Church in Mount Vernon, N.Y., Richardson felt the effects acutely on a personal level, as he received as many as six grief calls a day from parishioners.
"We had to scramble to stay alive and to keep things going," agreed Reverend J. Edgar Boyd, senior minister at First African Methodist Episcopal Church (FAME), the oldest African American church in Los Angeles.
Many wondered if the church would ever be back. And if it did return, would it be the same? Now, looking back it's clear that the Black church as an institution has been radically transformed over the last three years. Not only has it survived, but it has thrived. Many now say they can see light again, as so many houses of worship across the country have learned to expand and grow in ways they couldn't possibly have foreseen before the pandemic.
"The church never stopped being the church because you had to leave the building," explained Richardson. Instead, the era of COVID-19 "became a time for reimagining."
And reimagine, it did.
A New Beginning
Before the pandemic, only a fraction of Black churches nationwide had any kind of digital capacity. Of the 30,000 member churches represented by the Conference, said Richardson, only about 500 of those were streaming when COVID-19 hit. Most were forced to close completely, only reemerging months later after finding ways to pivot and reinvent themselves.
"Unless you were a church that already was doing something virtually, it took time to become competent," said Richardson. There was a huge financial investment required and new skills had to be learned. Not only by the congregation, but also by those in the pulpit.
During those early months, church often took place in smaller groups by phone and on conference calls, said Richardson. Until, eventually, video streaming and Zoom meetings became the norm. Some pastors scrambled to offer services from their phones and iPads. Budgets shifted dramatically because of lost income. Many staff members were laid off to make room for experts skilled in digital technology.
One pastor began referring to TGIF as Twitter, Google, Instagram, and Facebook Day as the church's whole outlook shifted to digital.
"Covid pushed online attendance forward by quantum leaps," said Charles Blake II, co-pastor at West Angeles Church of God in Christ in Los Angeles. Some churches were already famously online, he added, like Bishop T.D. Jakes in Dallas, Texas, whose messages were heard via weekly television and radio broadcasts. However, most churches weren't at all prepared for the digital shift.
Blake, too, was challenged to pivot and reinvent.
In December 2020, he posted a sermon on YouTube called "The Church Has Left the Building." In it, he stands outside, in the open air, against a classic backdrop of Los Angeles palm trees. The message begins by acknowledging the pain his parishioners are experiencing, after "nine months of not being able to come together as the assembly of the saints…nine months of not being able to share each other's pain and bear each other's burdens."
From there, however, he quickly moves on to his main message: the church must redefine itself.
"The church is you and me," he says, not the building it's housed in. The church "is us."
Today, West Angeles has more than 90,000 YouTube subscribers; a significant increase from its in-person reach, which fluctuated between 20,000-24,000 during the pre-COVID years.
But the transformation didn't come easily.
Something Lost, Something Found
"We had to learn a whole new way to do ministry," said Bishop Kenneth Ulmer of Faithful Central Bible Church in Inglewood, Calif.
As anyone who has ever attended an African-American service (or movie theater) knows, the Black church maintains the cultural specificity of long-held African roots and traditions, such as "call and response," a mode of interaction whereby the congregation answers aloud to whoever is speaking from the pulpit.
"Well, what if there's nobody to respond?" asks Ulmer. "What are you going to do? I know some guys who struggled with that psychologically. And looking into that camera, I struggled with it myself. Because for so long [we] were pitching into the wind. You don't know what's out there. I don't know if anyone is home listening."
Others have a different take.
"Call and response is nice," said Ricky Temple, senior pastor at Overcoming by Faith Ministries in Savannah, Ga. "I was trained to preach that way. It's a nice cultural experience. But to be honest about it, that's not the foundation. You don't have teachers saying, 'One plus one,' and the students saying, 'Two'. That's not how you learn math. And that's not how you learn scripture long term."
Temple's ministry, which began its digital shift back in 2007, was one of the few prepared to go fully online when COVID-19 hit.
"I realized that digital was even more effective than television," said Temple, who had even phased out much of his television broadcasting by 2010. "You could be more specific, and it didn't cost as much money." By March 2020, 65 percent of Temple's income was already online. Today, that number has grown to 97 percent, with only about three percent sending donations by mail. What's more, Temple discovered a critical new benefit: his congregation gave 30 percent more money when tithing digitally.
"I used to tell them, 'Please go home and put your pajamas on and give,'" he said, laughing. With digital offerings, the church's coffers remained consistent. It didn't matter whether it rained or snowed, said Temple.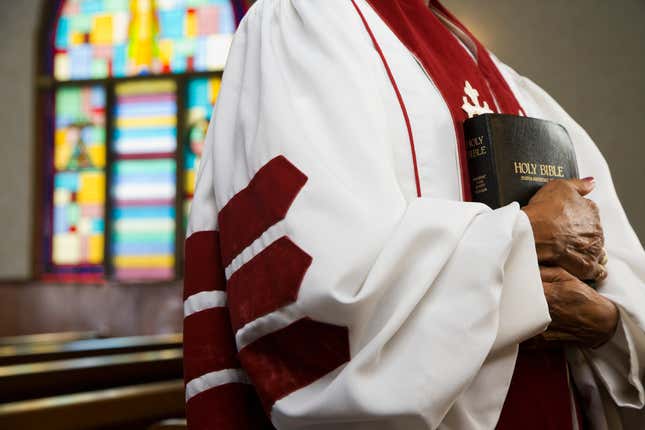 A Different Kind of Sermon
Despite these advantages, pastors across the country struggled with the new digital universe. Sermons had to be shortened, for example, to reflect the shorter online attention span. Two and a half hours of preaching had to be slashed to under 30 minutes—another huge cultural shift.
And there were theological questions, too. How could the church recommend online worship when a physical presence had been a part of Biblical doctrine? "We would often say a passage out of the book of Hebrews," said Reverend Ulmer. "'Forsake not the assembling of yourselves together.' This meant, 'Come to church.' And then we said, 'Don't come to church.' And now we're saying, 'Come back.' Congregants are saying, 'Well, now, what do you want us to do?'"
But many have had no problem answering that question for themselves, as only about a third of attendees had returned to in-person services as of August 2022. They've found that "they can do Jesus with a cup of coffee and house shoes," said Ulmer. "Why get up and put on your clothes and put on your hair and put on your makeup when you can do it at home?"
Temple agrees.
"Think of all the energy it takes to get to a church service. It takes an hour and a half to get dressed and go to church. You stay there for two and a half plus hours to talk. Then it's an hour to get home. That's a five-hour commitment for one service. And you've got to come back Wednesday night… It's a killer," he adds. "At one point we were having 28 services a month."
The benefits of digital are hard to deny.
At one time, at the height of the pandemic, Ulmer estimates that his church was broadcasting online to as many as 63 different countries, from Canada to South Africa.
"We reached a whole new audience," he said. "So now we've got an emphasis on viewers. How many are coming? How long do they stay?" Which raises yet another critical theological question. "We're not called to make viewers," said Ulmer. We're called to make disciples. So, how do you do that in this hybrid culture? We don't know. So, there's another learning curve that's coming."
While some are ready to meet this challenge, others remain firmly rooted in the past.
One colleague implied that Pastor Temple was going to hell for encouraging online services, he said. Well, not exactly, hell. But they did insist that what he was doing wasn't real church. "They think they're losing sight of God," he said. "I don't think so. Change is a natural process in life. But they've ridden on a horse and buggy and just can't imagine being in a train or a car."
The Human Touch
"But is connectivity the same as being in community?" some ask. After all, following someone online can never be the same as a hug or a smile.
"That's the downside," said Ulmer. "The sacrifice of intimacy and relationship." The hybrid model means that we will often miss greeting someone before and after the service, he adds. Looking a friend in the eyes and asking, "How have you been doing?"
While Pastor Boyd of FAME sees the benefits of online for congregants who previously drove 40 or 50 miles to church every Sunday, he also acknowledges that "some people actually need a hug from their pastor. Because they see a pastor as being the connection between them and God. A hug from their pastor on Sunday morning was the psychological, emotional fuel that got them through the week."
Some seniors have felt the shifts acutely.
Before COVID-19, one parishioner had repeatedly complained to her pastor, asking him to "tell these children to stop looking on these telephones in the middle of the service," not realizing that they were looking at Bible apps on the phone. Now, that same woman has a plethora of her own social media accounts, such as Facebook and Instagram.
Still, others have struggled.
For as much as the church does outreach and sends help (some have even given away laptops and iPads to seniors in need), there are always going to be those who feel isolated; those with medical issues who must remain at home, and for whatever reason, are not connected.
Temple agrees, but with caveats.
"I don't know that people define human contact the same way anymore," he said. "I think we want to define it that way, but when's the last time you went to the bank, stood in line, and transferred money?" Although his ministry still offers in-person Sunday services as well as digital, along with outdoor Family Days with carnival rides and food trucks, he said, "I think people define things differently now. We evolve and grow. Jesus said, 'Go out into the world.' Digital allows you to do that."
What's more, it allows for more direct contact, not less, he argues, since congregants can meet more often, in small groups, and in more intimate ways. "They email me directly when they have a problem. It's amazing how it becomes easier for them."
What's Ahead
"We're expanding. We're coming back," said Pastor Boyd of FAME in Los Angeles. "We won't be totally back, but we'll be different back. And we'll use that difference to make certain that we reach the people and provide the ministries we've always provided. The pandemic has brought some real challenges, but it's helped us to engage and expand and to do ministry much more effectively and efficiently than we did pre-pandemic."
By now, it has become crystal clear to everyone that the Black church is desperately needed during times of crisis and beyond.
The Conference of National Black Churches, which represents some 20 million people, or more than 80 percent of historically Black churches nationwide, partnered with the CDC early on to overcome vaccine hesitancy, initiating training and education efforts with 3,000 pastors a year. By 2022, the Conference's member churches had facilitated more than half a million vaccinations nationwide.
"The Black church could not afford to let this go," said Reverend Richardson. "If we weren't speaking out during this time, then we just need to go out of business. Because the life of our people was on the line, and the church needed to be a lifeline to save it."
FAME, one of 25 churches participating in the Conference's partnership with the CDC, also secured a $17.5 million grant from the state of California to do COVID testing, vaccinations, and educational efforts to address racial disparities. It offered monthly "Rock the Vax" events on church property, with free taco food trucks and haircuts, in an effort to encourage parishioners to come out and get vaccinated.
In fact, a Brookings Institute study found that "Black churches boost racial equity in COVID-19 prevention outcomes," while a Pew study found that the vaccination gap had closed, in part because of partnerships between Black church leaders and health care and vaccine providers.
"We are still here and still doing ministry," said Pastor Boyd of FAME. "We're still very much alive."