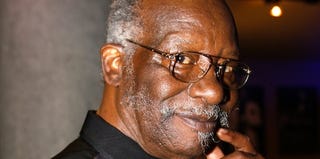 When 73-year-old soul singer Lester Chambers took time out of his performance to dedicate his rendition of Curtis Mayfield's "People Get Ready" to the life of Trayvon Martin, there was a chance some people would walk out in protest.
What he didn't expect was one audience member to charge the stage instead, but that's exactly what happened, according to the San Jose Mercury News.
The woman, who police identified as 43-year-old Dinalynn Andrews Potter of Barstow, apparently yelled, "it's all your fault" before shoving 73-year-old Lester Chambers, his family said Sunday.

"She had a crazed look in her eye," said Kurt Kangas, a friend of Chambers who ran to his aid. "I saw the devil there."

Chambers was performing at the Hayward Russell City Blues Festival downtown when around 5:15 p.m. he dedicated Curtis Mayfield's hit "People Get Ready" to Martin, the 17-year-old shot and killed by George Zimmerman.

A Florida jury acquitted Zimmerman on all charges Saturday.

Chambers told the audience if Mayfield were around today, he'd change the lyrics "there's a train a comin'" to "there's a change a comin,'" his wife Lola Chambers told this newspaper Sunday.

"She must have been an acrobat. She did it in one leap. He didn't see her coming," Lola Chambers said.

Eyewitnesses and Hayward police said people on stage subdued Andrews Potter after she allegedly shoved Chambers. Though the police investigation into a motive continues, family members believe the attack was racially motivated and was a result of Chambers' mention of Martin. The family is pressing police to file hate crime charges.

Andrews Potter is white, they said. Chambers is black.
Lester Chambers is half of the legendary R&B group the Chambers Brothers, who are a part of the inaugural class to be inducted into the R&B Hall of Fame. 
Read more at the San Jose Mercury News.
Jozen Cummings is the author and creator of the popular relationship blog Until I Get Married, which is currently in development for a television series with Warner Bros. He also hosts a weekly podcast with WNYC about Empire called Empire Afterparty, is a contributor at VerySmartBrothas.com and works at Twitter as an editorial curator. Follow him on Twitter.