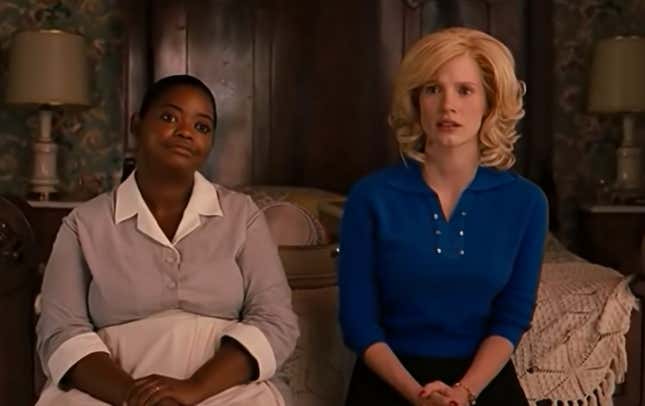 The Help is a controversial movie. There's no denying that watching all these truly spectacular Black women constantly be forced to dim their shine around the bland, problematic white women they work for is uncomfortable. The other side of the coin is that the star-studded cast of fantastic actresses give unforgettable performances. The murderer's row of award-winning talent includes Viola Davis; Octavia Spencer; Aunjanue Ellis; Emma Stone; Jessica Chastain; Bryce Dallas Howard; Allison Janney; and Cicely Tyson. That's an all-star team of amazing acting.
Comedian London Hughes Talks New Book, Parents Watching Her Very Sexual Comedy, & Beyoncé
Now, one of its stars wants to revisit her character alongside her Oscar-winning co-star. In an interview with Entertainment Weekly's The Awardist podcast, Chastain revealed she wouldn't mind reprising the role of Celia Foote with Spencer's Minny Jackson also returning.
"You know who I think about all the time, and I just wish I could play her [again]? Celia Foote. I just want to do something, Celia and Minny, and see what happened. You know they ended up living together and raising the baby together, they were best friends," Chastain said. "How amazing would that film be? I loved her, and I got to be a bit silly."
The Help chronicled the difficult lives of Black maids in 1960s Jackson, Miss. It was nominated for multiple Oscars including Best Supporting Actress for both Spencer and Chastain, which Octavia ended up winning. Celia was a flashy outsider who didn't fit in with the women of Jackson. She hired Minny and the two bonded over shared tragedy, becoming close.
Though she worked consistently in film and television, the 2011 movie really catapulted Chastain's career to the next level, so it makes sense that she would want to revisit the role. However, Black Twitter did not share her same enthusiasm for a possible sequel to The Help.
One user encouraged Chastain to recognize that the film isn't seen the same way nowadays, writing, "Read the room Jess."
Another person offered an alternate suggestion, posting, "...or you can just be best friends in a movie that has nothing to do with the help."
For someone else, it's not that complicated as they replied, "No, we don't see movies like this anymore!!"
If Jessica Chastain wants to work with Octavia Spencer again, surely they can find a quality project where they get to have fun, it doesn't bring up painful feelings for an entire community and doesn't have the baggage of The Help.