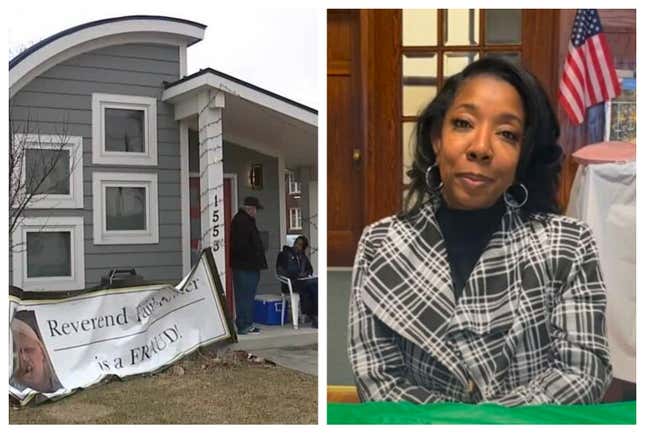 A group of 30 local advocates created a human barricade outside the home of Taura Brown, a terminally ill Detroit resident who claims she's being retaliated against with an unlawful eviction, per the Detroit Metro Times. The protest turned violent after they clashed with bailiffs as they forced their way through to Brown's home.

Brown, 44, lived in a tiny home built by the Cass Community Social Services in Detroit who provide housing to low-income city residents. She moved in December 2019, when CSS promised an agreement to give the deeds of the tiny homes to tenants who pay seven years of rent, the report says. Brown paid rent on time, making her money working at an apartment complex where her boyfriend lived and she often slept over. Then, in January 2021, CSS decided not to renew her lease alleging she was not living in her home 50 percent of the time. The next month, they stopped accepting her rent payments, per Detroit News.
For the next two years, Brown fought a claim in court that she did not violate her lease agreement until Wayne County Judge Shawn Jacque sided with the CSS and filed a court ordered eviction March 21. Brown was given ten days to vacate the premises, removing all her belongings and dialysis equipment to treat her Stage 5 kidney disease.
Brown attributed the legal battle over her home to CSS' director, Rev. Faith Fowler, who her attorney labeled a "nonprofit poverty pimp." She says she rustled Fowler's feathers after accusing her of fraud and micromanaging residents which may have brought this forceful eviction as a retaliation. However, Brown wasn't going down without a fight.
"At this point, we are in home defense. I'm going to fight this because this is bullshit. … I ain't going," Brown said the day before her eviction, per Detroit Metro Times. The morning of, Brown told reporters someone fired a gunshot toward her door hinge and drove off.
That was only the start to a day of chaos.
Read more from The Detroit Club of the Communist Party USA:
On April 4, the courts began the violent eviction of Ms. Brown. Spearheaded by Detroit Eviction Defense, housing activists, including members of the Detroit Club of the Communist Party USA, stationed themselves outside of Ms. Brown's house, ready to defend her and her home. What ensued afterwards was a disturbing display of violence, intimidation, and brutality by Wayne County bailiffs to evict Ms. Brown. Activists were punched, thrown to the ground, kicked, spit at, and even threatened with a knife by the bailiffs and their "movers."

The Detroit police officers who were present on the scene did little, if anything, to control the illegal and violent actions of the court officers and their contractors. The complicity of law enforcement on site comes as no surprise, as the police primarily exist to defend private property at the will of slumlords and at the expense of working-class and poor people.
By the end of the commotion, the bailiffs manages to throw all of her belongings out of her home, scattering her belongings all over her lawn. It's unclear what Brown's next steps are but she's taken shelter with members of the Detroit Eviction Defense.
Still, she maintains that this was not a matter of violating any lease terms, this was a direct attack.
"There are people that are home even less than me, and they are not facing eviction, this is personal," Brown said to Fox 2 Detroit. "I'm feeling confident fighting back. We are not done. We are just getting started."