This morning started out like any other day. I hopped up out my bed, turned my swag on, looked myself in the mirror and said what's up, and then promised myself not to throw any 10-year-old lyrics from Soulja Boy songs into anything I wrote today. But things happen. When I sat down to decide what to write about today, I hit my drafts and was reminded of an homage I'm writing to an album I loved from 2001 and began reading what I'd already written.

In said piece, I made mention of my graduation date from Morehouse College. I'd originally placed the date as May 21, 2001, but it turns out that date is a Monday. And I most certainly did not walk across the stage on anybody's Monday. At Morehouse, we complete our matriculations on Sunday mornings, starting at 8 a.m. So I corrected the date to May 20, but then wondered if that date was accurate. I figured maybe the answer would be a Google away on Al Gore's Greatest Invention Ever, les internets.
I googled "morehouse college graduation 2001." While none of the hits showed my graduation date, one of the hits was Wikipedia's page for "List of Morehouse College alumni." Like most schools of note, Morehouse has an entire Wikipedia page that lists our prominent alumni like Dr. Martin Luther King Jr., Spike Lee, Julian Bond, Samuel Jackson, etc.
I was curious though. I figured since I specified the year, there must have been an entry for 2001 and I wondered who from my class would be on that list. The most obvious answer would be Shaun King, who definitely came in as freshman with me but I'm not sure when exactly he graduated. So I clicked the link and started scrolling and right there, under "Journalist and Media Personalities," I saw an entry for 2001 and then I saw....le gasp...my name!
G/O Media may get a commission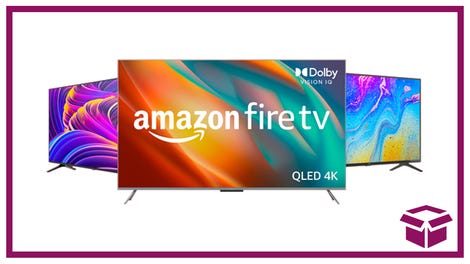 Ooh. stunning.
New Amazon Fire TVs
I saw my lil ole name there without the ability to click on my own personal Wikipedia page and felt so honored and special to be considered important enough to land on a page that includes the aforementioned names. I was so verklempt I fired off several texts to the wife and homies and hit up others on Gchat. I couldn't believe it. I felt so special. At the very least, it's just nice to be considered a notable alumni from your alma mater, at best, it puts you on a list of important people.
When I stopped keeping my thug tears in check and got my life together, I realized that I need a freakin' Wikipedia page. How am I going to be a notable journalist and/or media personality without a Wikipedia page. That makes no sense, so I will have to get on that post haste. But I'm very honored and flattered to be sitting there amongst those Morehouse Men who grew tall enough to wear the crown God placed above my head—a Morehouse College thing; you wouldn't understand. (Unless you went to Morehouse.)
I have no idea who added me to this list, or when, but whoever you are, you're the homie for life. It made my whole day. I felt accomplished today. I'm not on the official school website of notable alumni, but that's OK, I'll get there one day. For now, I'm perfectly happy to be chillin' on a Wikipedia list of notable folks that anybody who is curious about Morehouse's legacy would see. If you did it, thank you and I owe you a drink.
And because all of this wonderful discovery started with me trying to find my graduation date, according to my degree, it was May 20, 2001. In case you were wondering.