Michael Arceneaux hails from Houston, lives in Harlem and praises Beyoncé's name wherever he goes. Follow him on Twitter.
Where's the Creativity, Hollywood?
For every well-made remake of a classic film (think 2010 Oscar bait True Grit), there's a clunker (2005's Guess Who springs to mind). With a spate of movie redos in the works, including Steel Magnolias, Annie and Sparkle, we've got to wonder: Why can't Hollywood come up with something new? The following list of films with confirmed and rumored remakes on the way proves that the movie industry has officially run out of ideas.
Sparkle
After a decade of attempts, a remake of the 1976 music-themed film Sparkle will finally be made — with Jordin Sparks and Whitney Houston signed on to star. While some were elated at the news, others wondered, "Why not something new instead?" 
Annie
G/O Media may get a commission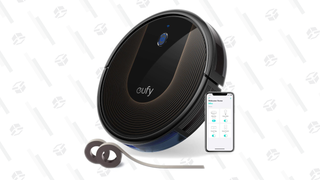 48% Off
Eufy BoostIQ RoboVac
Will Smith and Jada Pinkett Smith are determined to make their children multi-hyphenated superstars. On the film side of their plans, their strategy seems to be rooted in the familiar. First there was Jaden Smith's remake of The Karate Kid, and soon we can expect his sister, Willow, to star in the updated version of the Broadway musical-turned-movie Annie. Jay-Z will produce, while skeptics will ponder when the Smiths might venture out into creating original movies. They'll probably be too busy toasting the film's massive success to brainstorm ideas.
Uptown Saturday Night
After years languishing in movie-development purgatory, plans to redo the 1974 Bill Cosby and Sidney Poitier film have moved forward — with Will Smith and Denzel Washington tapped to star. If the remixed comedy does well, you can expect lots of sequels. Smith's production company, Overbrook Entertainment, reportedly also holds the rights to the other Cosby-Poitier pairings, like Let's Do It Again and A Piece of the Action. Do Hollywood execs hold pitch meetings in front of their collections of old VHS tapes?
Juice
It all started when Soulja Boy got his barber to re-create the high-right, low-left haircut that Tupac Shakur's character, Bishop, rocked in the cult classic film. Then came the Juice-inspired mixtape and the genius idea to remake the movie with the young rapper as the star. He later revealed that Waka Flocka Flame would be a part of the remake's cast. It's times like these you almost wish those silly rumors about 'Pac living in Cuba were true so he could fly into Atlanta and stop that production in the name of good taste — or at least teach Soulja Boy what it means to be a true original.
The Last Dragon
When it was announced in 2008 that the ultra-popular black martial arts musical was going to be remade, a sea of boos and hisses echoed across the Internet. Then came word that RZA was co-producing the movie and had plans to snag Rihanna for the Laura Charles role, played by Vanity in the 1985 original. Expectations were raised after Samuel L. Jackson was tapped to play the role of Sho'Nuff. The film has been in development for three years, but this is one that might not be half bad if it ever gets made.
The Wiz
Talks for a remake of the 1978 film starring Diana Ross and Michael Jackson, based on the Broadway musical, have been ongoing for years. Once upon a time, Brandy was rumored to be starring as Dorothy — a lonely hip-hop producer in Los Angeles — in a remake called The O.Z. Really. Other cast members included Queen Latifah, Busta Rhymes, Ginuwine and Little Richard. That never happened, but that hasn't stopped remake rumors. Nickelodeon actress Keke Palmer has said she'd love to star in a remake of the movie with Usher as the Tin Man. There's even a Facebook page petitioning Tyler Perry to redo the movie. No, thank you. None of these folks can re-create the magic of Diana Ross and Michael Jackson. Why try?
A Star Is Born
The 1937 original has been remade twice already, but never with a black actress as the lead. That alone makes the Beyoncé-led and Clint Eastwood-directed project interesting. The script is still being written, and there's no male lead. Plus, production will likely be delayed by Beyoncé's pregnancy, but the R&B star has confirmed that she will start recording for the sound track this month. Like it or not, this movie is happening. A Star Is Born purists can't be that mad at this remake — there are already three versions. What's one more? Knowing Hollywood, there will be a fifth version in production by 2035.
Cleopatra
With Angelina Jolie taking on Elizabeth Taylor's role in the recently announced remake of Cleopatra, it's clear that the argument for a nonwhite portrayal of the last pharaoh of ancient Egypt will continue. However, Jolie says that while her "performance will never be as lovely as Elizabeth's," she hopes to add nuance to the story on film. She explained: "We are trying to get into a different truth about her as a pharaoh in history and not as a sex symbol, because she really wasn't." Different truths about Cleopatra? Hello, irony.
Foxy Brown
In 2002 Alex Gartner, then MGM's production president, said of a proposed Foxy Brown remake starring Halle Berry, "We're going to take some license in updating the character. We're going to take all the positive aspects of Foxy as a powerful, empowered woman, and we're going to create a larger-than-life vehicle for Halle." He also said the studio intended to turn the remake into a franchise. Two years later, Berry starred in the failed Catwoman, and Foxy Brown never got off the ground. You do the math. Sidenote: In 2007 Berry's name was thrown around for a possible rehash of the trippy Jane Fonda cult film Barbarella, which also never happened. Berry won her Oscar for an original role — she might want to just stay on that track.
21 Jump Street and Welcome Back, Kotter
There seems to be some excitement among quite a few fans for the movie adaptation of the late 1980s-early 1990s TV cop drama 21 Jump Street. Original cast member Holly Robinson Peete will make a cameo, as will Johnny Depp. Ice Cube is a part of the new cast, and if this goes well, you can expect a bunch of other old TV shows to make a leap onto the big screen (and join the long, sad list of TV-to-movie remakes). Actually, expect it anyway. Ice Cube long ago revealed plans to star in a film adaptation of the 1970s sitcom Welcome Back Kotter.
Love Jones
An Internet joke about Tyler Perry remaking the 1997 movie starring Larenz Tate, Nia Long, Isaiah Washington, Bill Bellamy and Lisa Nicole Carson put fear into the hearts of many of the romantic film's longtime admirers. There was no truth to the rumor, but please, don't give Perry any ideas — remember what happened with For Colored Girls? The über-rich director definitely fares better with his own material.
The Bodyguard
The original is only 20 years old, but probably because it grossed $400 million at the box office, producers are already hankering to make a new one — with a contemporary twist. The remake will revolve around an Iraq War veteran working as a bodyguard in the age of Twitter, Google Maps and TMZ. Rihanna quickly dismissed stories that she would star in the movie, but that still leaves the possibility of folks like Katy Perry or Lea Michele taking on Whitney Houston's biggest role. Moviegoers should fear for the safety of main character Rachel Marron now more than ever.
Truck Turner
With films like Footloose being revamped and rereleased for new generations — for better or for worse — some have wondered why more blaxploitation movies haven't — for better or for worse — gotten the same treatment. A few Hollywood heavyweights have tried. After the 2000 version of Shaft netted $100 million-plus at the box office, Queen Latifah announced plans to produce a remake of 1974's Truck Turner. That was 2004, though, and not a peep about it has been heard since. The legacy of Isaac Hayes, who starred in the original, is intact.