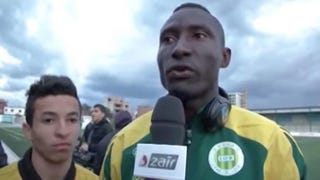 A 24-year-old Cameroonian soccer player has died after being hit with an object thrown by angry fans upset with their team's loss, according to the BBC.
Albert Ebosse was struck in the head by an unconfirmed object after his team, the Algerian club JS Kabylie, beat another Algerian team, USM Alger, 2-1 Saturday evening.
He was rushed to a local hospital in Algiers, where he "succumbed to a head injury," the BBC reports. 
According to unconfirmed reports, fans were apparently throwing rocks at the winning team as they left the pitch. Ebosse, a striker for JS Kabylie, scored a goal in the win.     
"African football cannot be the breeding ground for hooliganism whatsoever," the president of the Confederation of African Football, Issa Hayatou, told BBC. "We expect exemplary sanctions to be taken against this grave act of violence."
Ebosse had played for JS Kabylie since July 2013.
Read more at BBC.