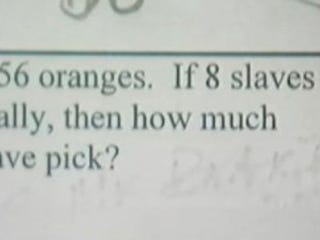 Parents and activists in Atlanta blasted Beaver Ridge Elementary School in Gwinnett County for giving students a math worksheet that used examples of slavery in word problems.
The worksheet included questions such as, "Each tree had 56 oranges. If 8 slaves pick them equally, then how much would each slave pick?" and "If Frederick got two beatings per day, how many beatings did he get in 1 week?"
Following the uproar, school officials said they would come up with more appropriate lessons and offer staff development training. But parents don't think that's enough in a school that is made up predominantly of minority students. They called for diversity training for the teachers and administrators, as well as for district officials. 
"It kind of blew me away," Christopher Braxton, the father of a Beaver Ridge student, told Channel 2. "I was furious. Something like this shouldn't be embedded into a kid of the third, fourth, fifth, any grade."
School officials said that they were trying to incorporate history into some of their third-grade math lessons.
"Clearly, they did not do as good of a job as they should have done," district spokeswoman Sloan Roach told the Atlanta Journal-Constitution.
While you may not be able to call people racists based just on this word problem, you have to question their cultural sensitivity and sense when they do something of this nature. Our nation's history should never be forgotten and should always be taught in schools, but this was the wrong way to do it.
Read more at the Atlanta Journal-Constitution.