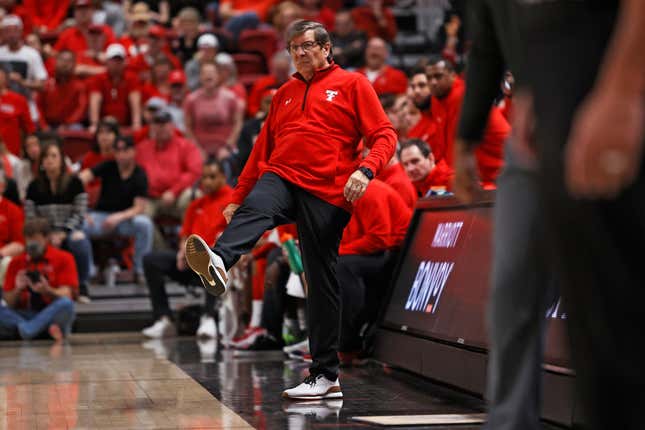 Texas Tech men's basketball coach Mark Adams has been suspended for making a religious yet racially insensitive comment to one of his players. According to Texas Monthly, he didn't show much remorse for making them feel uncomfortable.

Adams is accused of making a series of comments deemed inappropriate by the school administration. Allegedly, he tried to motivate a player to be more receptive to his coaching by citing Bible verses about "workers, teachers, parents and slaves serving their masters." It wasn't until he found out that player was upset about the Bible references that he issued an apology to the whole team, according to a news release from the university. 
Once Athletic Director Kirby Hocutt was notified of what went down, Adams was issued a formal reprimand but was placed on suspension after conducting an internal investigation into the coach's relationship with his players.
Read more from Texas Monthly:
Hocutt met with players on Sunday to gauge the coach's status inside the locker room. While it's nearly impossible to imagine a coach keeping his job after using slavery metaphors to motivate a player, Hocutt wanted to hear from the athletes. How could Texas Tech ever again land a coveted recruit with this guy in charge?

Hocutt also learned of an incident earlier this season when Adams was alleged to have spit on the same player. Adams told Stadium he had gone to the doctor, had a bad cough, and may have accidentally slobbered on the player. However, Adams is said to have told the player, according to Stadium: "I can spit on you whenever I want to."
This man clearly has something against this unidentified player who we can only pray isn't Black. Slave references, biblical or not, are rarely safe territory when speaking to a Black person. Adams tried to defend himself in a statement to Stadium, claiming his Bible verse reference was to indicate there is "always a master and a servant."
"I was quoting the scripture. It was a private conversation about coaching and when you have a job, and being coachable," Adams said. "I said that in the Bible that Jesus talks about how we all have bosses, and we all are servants. I was quoting the Bible about that."
He also asserted that he didn't apologize to the team but instead tried to explain his point further to the players - contrary to the school's press release on the matter.
According to ESPN, Adams was already under pressure from the public because Texas Tech wasn't having the best season. Now, the school has to find a fill-in while this mess is sorted out.