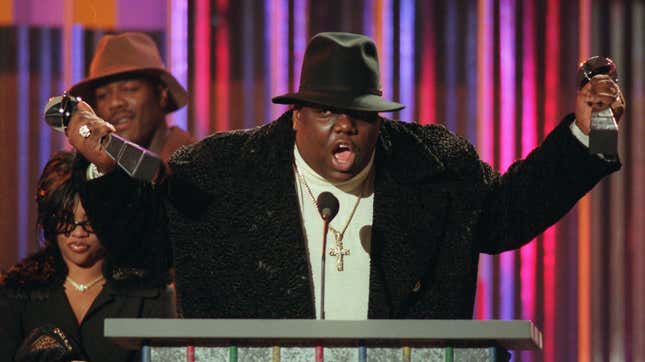 Baby, Bay-bayyy!
On the blessed day of May 21, 1972, Christoper George Latore Wallace, who would grow to be a man of many names—Notorious B.I.G., Biggie Smalls, Big Poppa, and more—was born. This year, 2019, marks what would've been the late legendary rapper's 47th trip around the sun.
Here's How Medicaid Expansion Can Play A Role In Black Maternal Healthcare
Now, Brooklyn will immortalize him in a classic way—by naming a street after him. That's right, residents will soon get to say they walked down Wallace Way.
From the official press release:
Today, as the music world celebrates what would have been the 47th birthday of the late Notorious B.I.G., Ms. Voletta Wallace, T'Yanna Wallace, Christopher Jordan Wallace and The Christopher Wallace Memorial Foundation are excited to announce the official street naming of Christopher "Notorious B.I.G." Wallace Way. The street naming ceremony will take place on June 10th from 12pm-2pm in Brooklyn, on St. James Place, at the Fulton Street intersection. Ms. Voletta Wallace, mother of the late rapper, and his children, T'Yanna and Christopher, will be in attendance, along with Brooklyn politicians and a few of his closest celebrity friends.
This announcement is especially significant as it is where Wallace grew up.
Wallace suffered an untimely death when he was killed on the night of March 9, 1997. He was only 24 years old.
On the afternoon of June 10, I expect St. James Place to be filled with a flock of fans, family, peers, loved ones, and residents alike, as Wallace's unforgettable music blasts from the speakers. It'll certainly be quite a special day.
"Rep Big in a horde, like he still on St. James," indeed.