(The Root) — When Chris Brown released Fortune in June, the singer's fifth studio album scored mostly mixed-to-negative reviews. Time magazine called it "one of the blandest R&B albums in recent memory," but a lot of critiques took issue with Brown personally as much as musically. Rolling Stone's reviewer complained about spending 13 songs with "a guy so reviled mosquitoes won't bite him," and many other reviews took a similar course.
Most of Brown's fans seem to have forgiven his infamous domestic violence episode with Rihanna from three years back. (So, it would seem, has Rihanna: The two appeared on each other's remix in February. The singer even went so far as to admit to Oprah that she still loves him.) Critics apparently have a longer memory. And yet, should moral judgments of behavior determine how we appreciate music?
A photo of a brutalized Rihanna from celeb-news site TMZ spread worldwide across the Web soon after their 2009 incident, an ugly image that the unforgiving will never forget. Bootleg DVDs of an alleged R. Kelly having sex with (and urinating on) a teenage minor spread around black communities in 2002. The footage was admitted as evidence in a sensationalized 2008 trial that resulted in a not-guilty verdict. Michael Jackson Was My Lover: The Secret Diary of Jordie Chandler was banned in America, but lurid details of the late pop star's 2005 child-molestation trial sullied his career until the end.
Technology in the modern age is allowing audiences a greater say than ever before in the history of the arts. Twitter and Facebook users circulated the TMZ Rihanna photo in a way that wasn't really possible even five years earlier. Personal computers nationwide burned enough copies of the R. Kelly bootleg to make it an underground best-seller. Whether or not it's fair to consider artists' personal missteps when critiquing them professionally, those private mistakes have never been so publicly available for review.
Sidestepping into the world of cinema for a second, filmmakers don't seem to be held to such a moral standard. Woody Allen won an Oscar in February for Midnight in Paris, a comedy released the same year he celebrated 14 years of marriage to Soon-Yi Previn. Their union was, of course, majorly controversial in the early 1990s. As the stepdaughter of Allen's former longtime girlfriend Mia Farrow, Soon-Yi was largely misperceived by the media as Allen's own stepdaughter. Clearly, Academy Award voters are over it.
G/O Media may get a commission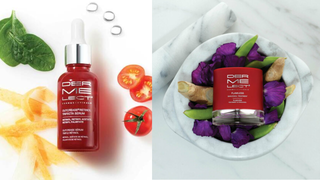 Save $19
Retinol Renewal Kit
Two years ago Switzerland refused to extradite director Roman Polanski to be tried in America for having sex with a 13-year-old in 1977 (he was 43); the Swiss freed him from months of house arrest instead. France awarded Polanski a César (the French Oscar) for best director for The Ghost Writer that same year.
Both the Grammy Awards and the BET Awards gave Chris Brown absolution by asking him to perform after his domestic-assault episode. F.A.M.E., Brown's 2011 release, has sold more than 500,000 copies, and Fortune landed at the No. 1 spot on the Billboard charts, selling 134,000 units in its first week — forgiveness abounds. But when writers sum up reviews with "Chris Brown hits women. Enough said" (Chad Taylor, Cityview) and "the man recently brutually assaulted a woman … don't buy this album" (Chloe Papas, X-Press), it's obvious that not everybody pardons him — even those who perhaps have a professional responsibility to do so.
But Chris Brown is 23, and his followers on either side of the forgiveness debate skew young. Teens taking the music of their parents for granted still probably don't know much about Ike and Tina Turner's history, much less the quieter transgressions of icons like James Brown and Miles Davis.
Brown (James, not Chris) was arrested four times on charges of domestic assault against his third wife, Adrienne Rodriguez. At 17, Motown songstress Tammi Terrell ("Your Precious Love") got romantically involved with 29-year-old Brown, a relationship that turned abusive, according to her sister's memoir, My Sister Tommie: The Real Tammi Terrell. (Later she was linked with Temptations singer David Ruffin; their union ended when he slammed Terrell in the face with his motorcycle helmet.) No one protested the worldwide mourning of James Brown when he passed away in 2006.
And then there's jazz legend Miles Davis, who practically bragged about slapping his ex-wife, actress Cicely Tyson, in his 1990 autobiography, Miles. That same year, author Pearl Cleage penned the 64-page Mad at Miles, which approaches the whole question of whether physically abusive entertainers should be supported, but most critics and fans were ambivalent.
Twitter didn't exist yet to rake Davis, Ruffin or James Brown over the coals. Their moral failings were only heard through the grapevine in the 1960s and '70s. Tragically, physical abuse was also arguably more culturally acceptable back then; who knows if their careers would have been affected at all?
For critics, impartial distancing seems only fair when considering the art of musicians, directors, etc. (Yet where were the Chloe Papases of the world when judging the art of rumored racists? If Elvis had actually said that the only thing African Americans could do for him was shine his shoes and buy his records, would he not have been crowned the King? Doubtful.) Consumers, for their part, should feel free to hold on to their own personal grievances — and dollars — at the register.
Miles Marshall Lewis is the Harlem-based author of Scars of the Soul Are Why Kids Wear Bandages When They Don't Have Bruises, There's a Riot Goin' On and Irrésistible. Lewis is a former editor at Vibe, XXL and BET.com. Follow him on Twitter and visit his personal blog, Furthermucker.