She plays a terrifying pair of maternal figures in Us, but Lupita Nyong'o's next role is made for kids. After announcing last year that she'd be penning a children's book named Sulwe, which deals with the issue of colorism, on Monday, Nyong'o gave a first look at the book's cover, illustrated by Vashti Harrison and published by Simon and Schuster.
While we still don't know the specific plot points, we do know that the name of Nyong'o's eponymous young heroine, Sulwe, means "star" in her native Kenyan language, Luo. Now available for pre-order and intended for young readers aged 5 to 7, Nyong'o posted that she wrote the book "to encourage children (and everyone really!) to love the skin they are in and see the beauty that radiates from within."
If the style of Sulwe's illustration looks comfortingly familiar, it's because Harrison is pretty much everywhere these days, as well as being a best-selling children's book author herself, having written and illustrated the best-selling Little Leaders: Bold Women in Black History and Little Dreamers: Visionary Women Around the World. Harrison's work can also be seen in NFL wide receiver-turned filmmaker Matthew A. Cherry's upcoming children's tome, Hair Love (recently optioned as a short film by Sony), and most recently, in tandem with the successful Kickstarter campaign for Frank Abney's Canvas.
Though now recognized as one of the most beautiful and stylish women in Hollywood, Nyong'o has long been vocal about her journey to accepting her dark skin, telling Glamour in 2014:
European standards of beauty are something that plague the entire world—the idea that darker skin is not beautiful, that light skin is the key to success and love. Africa is no exception. When I was in the second grade, one of my teachers said, "Where are you going to find a husband? How are you going to find someone darker than you?" I was mortified. I remember seeing a commercial where a woman goes for an interview and doesn't get the job. Then she puts a cream on her face to lighten her skin, and she gets the job! This is the message: that dark skin is unacceptable. I definitely wasn't hearing this from my immediate family—my mother never said anything to that effect—but the voices from the television are usually much louder than the voices of your parents. ...

I've heard people talk about images in popular culture changing, and that makes me feel great, because it means that the little girl I was, once upon a time, has an image to instill in her that she is beautiful, that she is worthy—that she can... Until I saw people who looked like me, doing the things I wanted to, I wasn't so sure it was a possibility. Seeing Whoopi Goldberg and Oprah in The Color Purple, it dawned on me: "Oh—I could be an actress!" We plant the seed of possibility.
G/O Media may get a commission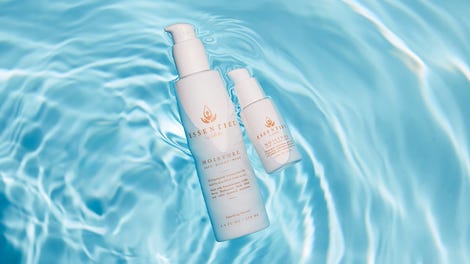 20% off
Essentiel by Adele
Sulwe won't be released until October 1 (you can preorder here), but we're already excited to see its potential impact on young readers and the illustration community alike, as black narratives and imagery once again beautifully bring the power of our stories to life.
And who knows? With Nyong'o at the helm, maybe a sequel or Hollywood adaptation may be soon to follow.