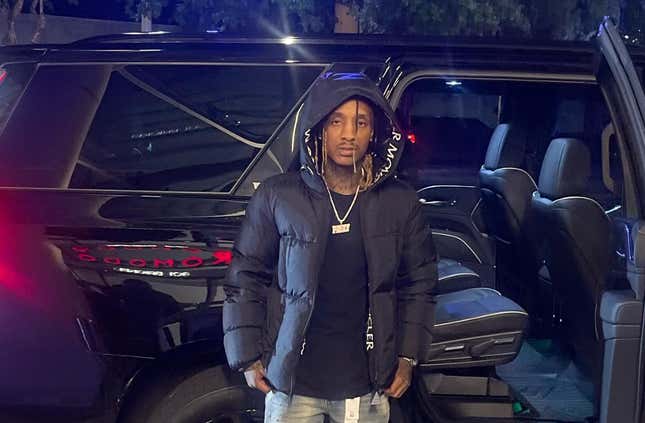 Two deputies approached rapper Feezy Lebron in Crenshaw, pointing their guns at him and threatening to shoot him in the chest, per a report from Streetsblog LA. The artist captured the interaction on Instagram Live and included the cops' names in a post with a call to action to have them terminated.

Beyoncé Becomes The Queen of The Grammys With Record Wins
"Let's get this guys face out there before he gets a chance to MURDER a young Black male sitting in his PARKED car…unarmed," read his Instagram post.
That is pretty much what the artist claimed happened. The two sheriff's deputies, who the rapper identified as Jacob Ruiz and Justin Sabatine, approached the rapper who had been sitting in a parking lot with the engine off. There are conflicting facts on where he was parked: one report said his friend's private lot and another said a strip mall lot. Per Lebron's account, the officers were immediately apprehensive and assumed the artist was going to drive off.
The rest of the encounter was caught on audio recording and was recounted by the artist in another Instagram post:
"Take off in this car and I'm gonna shoot you," says who Lebron identified as Sabatine's voice. "I'm gonna make it super easy on you: if you put this car in drive, you're getting one right to the chest."
"You gonna shoot me for sitting – for sitting in a car?" Lebron responds.
"You gonna comply or no?" Sabatine replies.
"Comply [with] what?" Lebron asks.
"If you move your hands from right there, you're in trouble. You are most definitely one thousand fifty percent detained," Sabatine responds.
…Do y'all know what's happening here? Cool, me either. Based on the portion of the traffic stop we've seen, the officers didn't state any probable cause for the stop or the detainment. Apparently, that wasn't the end of the interaction either.
Read more from Streetsblog LA:
The audio cuts out here. But it was just the start of what Feezy says was a lengthy detention in which they tore apart his car searching for anything that would justify the engagement.

There was nothing for them to find – "I have my license. I have my registration. I have my insurance. I have everything I need to have. I wasn't sitting there smoking weed…I didn't have any of that going on," he says.

But knowing he was in the clear didn't stop his mind from spinning. He says he just tried to focus on staying calm and doing what he could to defuse the situation.

"He was already escalated," Feezy says of Sabatine. "I'm hearing his voice and it's like he's got so much rage – almost like roid rage – so I just want to not escalate it. But at the same time, I do want to understand why this is happening. As you can see in the video, though, he really couldn't give me an answer [about the justification for the stop]."
The Los Angeles County Sheriffs Department has yet to respond to the incident. In the meantime, fans have been flooding Twitter calling for the two officers to be fired or disciplined.
This story was updated to correct original attribution to Streetsblog L.A. from Hollywood Unlocked.