Donald Sterling's estranged wife, Shelly Sterling, won a landslide victory in court on Monday as a judge ruled in her favor, making way for the sale of the Los Angeles Clippers to former Microsoft CEO Steve Ballmer, the Los Angeles Times reports.
Judge Michael Levanas effectively dismissed all of the embattled Clippers owner's arguments, agreeing with Shelly Sterling on all three counts in a tentative oral ruling, according to the news site. In the ruling, Shelly Sterling was also granted permission to complete the sale even if an appellate court intervenes.
"Ballmer paid an amazing price that cannot be explained by the market," Levanas said, according to the Times. The business mogul coughed up an astonishing $2 billion for the team.
Levanas stated that Shelly Sterling's testimony was "far and away more credible" than that of her husband, who was allegedly caught on a recording months ago making racist statements. He also ruled that Shelly Sterling behaved appropriately when two doctors said he was "mentally incapacitated." 
According to the Times, Shelly Sterling hugged her attorney when the ruling was announced. Her husband was not in attendance. "I haven't slept for, like, about two months," Shelly Sterling said. "I'm going to go to sleep now. I'm just glad it's over." 
The National Basketball Association is also happy with the outcome. "We are pleased that the court has affirmed Shelly Sterling's right to sell the Los Angeles Clippers to Steve Ballmer. We look forward to the transaction closing as soon as possible," it said in a statement. 
G/O Media may get a commission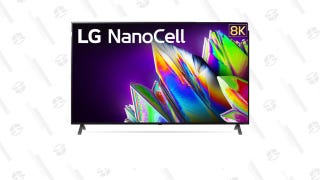 LG 75-Inch 8K TV
Read more at the Los Angeles Times.