Shelly Sterling has a lot coming to her since winning her lawsuit against V. Stiviano, her husband Donald Sterling's former mistress or business partner or Depends-diaper changer. I'm really not sure what Stiviano was to him. Stiviano, who lived a lavish lifestyle thanks to Donald's, and apparently Shelly's, bank account, now has to dig deep into her pockets and pay back $2.6 million in gifts and money to Shelly Sterling because of California community-property laws.
What exactly does Shelly have coming to her? According to the Los Angeles Times, plenty of interesting items. Let's take a look at each of them:
$1.8 Million: Spanish-Style Duplex
Shelly, now. come on. Do you really need another house to not live in?
$1.2 Million: Cash
I'm really hoping Stiviano saved up money from selling those ridiculous visors she used to walk around in.
$400,000: Cars, Including a Ferrari, 2 Bentleys and a Range Rover
At least Donald had good taste in cars. Too bad Stiviano will now have to make use of Uber.
G/O Media may get a commission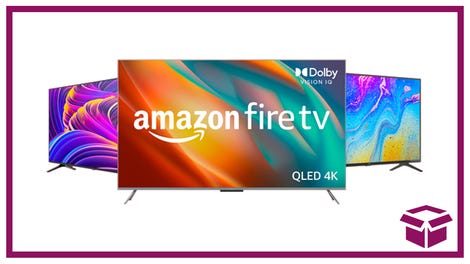 Ooh. stunning.
New Amazon Fire TVs
$10,420: 2 Chanel Flap Bags
Stiviano won't have any money to carry around in these bags anyway.
$5,333: Cartier Love Bracelet
Maybe in Stiviano's and Donald's case it should be renamed a lust bracelet.
$4,570: Louis Vuitton Suitcase
No purse, no bags and I guess no travel, either, for Stiviano.
$1,051: Manolo Blahnik Shoes
No purse, no bags, no shoes. I really hope Stiviano realizes that she's about to be roaming the streets of Los Angeles with only those visors.
$925: Dry Cleaning
All things considered, that's really not an expensive dry cleaning bill. So does Shelly want the money? Or the clothes that were dry-cleaned? Or both?
$843: Skin Treatment
Shelly, do you want the old skin back also?
$695: Chanel Thong Sandals
Shelly, you really shouldn't wear other people's shoes.
$391: Easter Bunny Costume
What kind of freaky s—t were these two people into? Shelly, are you willing to wear this for Donald also?
$354: Birthday Cake
If there's cake left, I doubt it's edible. Just chalk this one up as a loss, OK?
$299: 2-Speed Blender
Now Shelly can make Donald Metamucil shakes to keep him regular in his old age.
$140: Kobe 8 System Nike Basketball Shoes
I really doubt that Shelly is the working-out type of person.
$12: Lace Thong
Shelly, do you really want someone's used thong?
$1: Donation to St. Jude's Children's Research Hospital as Part of a Purchase at a CVS Store
Shelly, now, this is just petty. From this day forward, I'm going to call you Petty Murphy.
I suppose that Shelly would of course see this as a victory. She's gotten payback on the alleged mistress who was living off her and her husband's dime. But what about Donald? No one forced him to act like a human gift horse. No one forced him to allegedly cheat on his wife. I suspect that even after decades of marriage, Stiviano isn't the only woman he bankrolled. She's just the only one who didn't keep quiet about it.
Advice to Shelly: Throw the thong away. Also, I have a feeling Stiviano isn't going to hand over anything peacefully.