Few people can say they've had one parent on the cover of Rolling Stone, let alone two. Then again, few people are Zoë Kravitz, descended from bona fide cultural icons Lenny Kravitz and Lisa Bonet.
As a member of perhaps one of the coolest and most famous blended families on earth (oh hey, Jason Momoa), it's only natural that the occasional homage should take place. But this one pretty much takes the win: 30 years after mother Lisa's iconic Rolling Stone cover, where she wore a white shirt and nothing else, Kravitz recreated the pose for the magazine's November issue, aptly named the "Hot Issue." But in a sweet (and very sexy) salute, Kravitz chose to pose in the nude, exactly as her mother appeared in the pages of her May 1988 cover story, and as Bonet had originally intended.
"I think she was a little bummed when they used the shirt picture as the cover," Kravitz tells the magazine. "I think she just thought, 'I'm doing it, let's do it!'" So Kravitz decided to bring the idea to fruition. "It's less about the picture," she says, "and more about doing the thing my mom intended to do. That feels cool."
Fun fact: Bonet was two months pregnant with her first daughter when she shot her issue in '88, so "technically, this is my second cover," joked Kravitz. She also manages to spill some tea in the pages of Rolling Stone, casually admitting she's been engaged since February to longtime love and fellow actor Karl Glusman. The two had a pretty ingenious couple's costume last Halloween. She also riffs on her famous parents—the notoriously private Bonet and prototypical rock star Lenny Kravitz, each known for being preternaturally cool, as is Zoë.
G/O Media may get a commission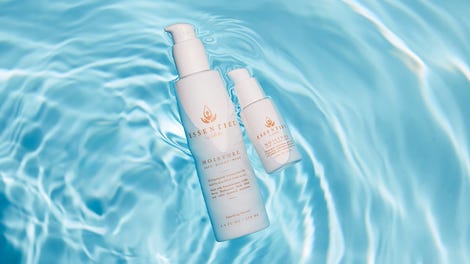 20% off
Essentiel by Adele
"There's this Kravitz family thing where people think we're really cool and serious, which always makes me laugh," she tells Rolling Stone. "Because we're some of the goofiest people in the world."
Mr. Kravitz also receives a visual nod inside the issue, as well as Zoë's grandmother, the late actress Roxie Roker, wearing a boa in a style similar to the one worn by her father on the Mama Said album.
"The boa is actually my grandmother's — my dad's mom's ... We like our boas," Kravitz says, explaining that she's just becoming comfortable discussing her parents at length, now that she's forged her own path. "I feel like it's a good time," she says. "I feel comfortable in my own skin. And it's nice to do that homage to them. Because I love them! They're my parents!"

On a more serious note, when asked about being an actress in the era of #MeToo, the 29-year-old Kravitz also admits to her own experiences of sexual harassment, as well as weighing in on her mother's former television dad, Bill Cosby, whom Bonet reportedly refers to as "Mr. Righteous."

"Her and him never got along," Kravitz tells the magazine. "Whether he was attracted to her, or he resented her having a mind of her own, she always got a weird vibe from him. A dark vibe." Of a photo she recently saw of Cosby holding her as a baby on set, she says, "It's actually a really disturbing picture. His face is not a sweet face at all. It's kind of creepy."
Maybe that's another reason why recreating her mother's famous image, taken just as she was beginning to liberate herself from simply being known as "Denise Huxtable," was so important to her daughter.
"I've always loved that cover so much," Kravitz says. "When I think of Rolling Stone, that's always the image that pops into my head. It's a really striking image of her. It's beautiful."