Stop debating who wore the flower crown first—or best—and focus, y'all:

Beyoncé just made having a FUPA fashionable.
Okay, maybe not fashionable, but entirely normal and acceptable—especially post-baby (or three). It's just one of many revelations the star makes in Vogue's September issue, which was famously shot by 23-year-old black photographer Tyler Mitchell—the first in the magazine's history, and reportedly hired at Beyoncé's behest (though in a press release, the magazine claims to have made the initial suggestion).
Inside, Beyoncé recounts a myth I also sadly remember being drilled into my head as a young, black female model and musician two decades ago:
When I first started, 21 years ago, I was told that it was hard for me to get onto covers of magazines because black people did not sell. Clearly that has been proven a myth. Not only is an African American on the cover of the most important month for Vogue, this is the first ever Vogue cover shot by an African American photographer.
It's important to me that I help open doors for younger artists. There are so many cultural and societal barriers to entry that I like to do what I can to level the playing field, to present a different point of view for people who may feel like their voices don't matter. ... Until there is a mosaic of perspectives coming from different ethnicities behind the lens, we will continue to have a narrow approach and view of what the world actually looks like. That is why I wanted to work with this brilliant 23-year-old photographer Tyler Mitchell.
Another myth Bey is pushing back against? The myth of the effortless post-pregnancy snapback; pressure almost every mother can relate to, and which Bey admits to succumbing to after the birth of Blue Ivy (which was memorably followed by a much sexier image for her self-titled 2013 album). Experiencing toxemia—which caused both extreme weight gain and required bed rest—followed by an emergency C-section and weeks spent healing and in the NICU with twins Sir and Rumi, changed her perspective on her body; perhaps reassessing what it means to be "flawless."

After the birth of my first child, I believed in the things society said about how my body should look. I put pressure on myself to lose all the baby weight in three months, and scheduled a small tour to assure I would do it. Looking back, that was crazy. ...

After the twins, I approached things very differently. ... I was in survival mode and did not grasp it all until months later. ... But I was patient with myself and enjoyed my fuller curves. My kids and husband did, too. ...

To this day my arms, shoulders, breasts, and thighs are fuller. I have a little mommy pouch, and I'm in no rush to get rid of it. I think it's real. Whenever I'm ready to get a six-pack, I will go into beast zone and work my ass off until I have it. But right now, my little FUPA and I feel like we are meant to be.
G/O Media may get a commission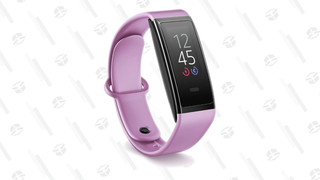 44% Off
Amazon Halo View Fitness Tracker
In keeping with her newfound embrace of herself, for her Vogue shoot, Beyoncé opted to take a more natural approach than we're used to seeing (or that she's currently rocking while on tour with On the Run II); abandoning the wigs and hair extensions she's well known for and opting for minimal makeup.
The resulting spread is as much of a retrospective as a revealing look at Beyoncé; almost every photo is titled for one of her famous songs, and seems to evoke a particular moment in her career.
For instance, wearing a ruffled Gucci dress and a headpiece and floral headdress created by Lynn Ban and Rebel Rebel, respectively, her first cover look, titled "Me, Myself, and I" is decidedly more earth mother than superstar; channeling portions of her Lemonade visual album. For her second Vogue cover, a red, black, green and gold dress and corset by Alexander McQueen give a decidedly proud Afro-Caribbean/Creole vibe, while Bey's pose once again emulates the Winged Victory statue recently featured in her "Apeshit" video.
Wearing a gilded and star-inspired Philip Treacy hat with a golden Valentino dress, we are momentarily transported back to a then-pregnant Bey's almost religious experience of a performance at the 2017 Grammy Awards. And while donning Gucci again for a shot titled "I Ain't Sorry," Bey strikes a pose that seems to be a more evolved version of the one she first made famous on the cover of her solo debut, Dangerously in Love—perhaps letting us know she'd do it all again.
And she says as much in her interview with Vogue, telling writer (and culture editor for our sister site, Jezebel) Clover Hope that she feels the birth of Sir and Rumi were a blessing of combined male and female energy, which will hopefully balance and break the generational patterns of what she calls "a lineage of broken male-female relationships, abuse of power, and mistrust." She also shares that the difficulties of their birth further bonded her and husband Jay-Z, as the two continued to repair their damaged marriage. As she tells Hope:
There are many shades on every journey. Nothing is black or white. I've been through hell and back, and I'm grateful for every scar. I have experienced betrayals and heartbreaks in many forms. ... Through it all I have learned to laugh and cry and grow. I look at the woman I was in my 20s and I see a young lady growing into confidence but intent on pleasing everyone around her. I now feel so much more beautiful, so much sexier, so much more interesting. And so much more powerful.
And about those dueling flower crowns on the September issues? Get over it and get into all this black woman magic around us this season. Seriously; it's like comparing Beyoncés and Rihannas—and in our world, there's room for both (and more).