Shaquille O'Neal is a great big black man. He was a phenomenal basketball player and a horrible rapper. He likes to bill himself as a big ol' cuddly teddy bear, but Shaquille O'Neal's politics are dangerous.

He's a great big black man with a podium and a microphone and a whole lot of "pull your pants up" rhetoric. He's a great big black man who wades in the hip-hop waters but doesn't protect those whom the music supports or those who make the music.
It's almost as if Shaquille O'Neal forgets the days when he used to be Shaq-Fu. He's so pro-police that during his off time, he was sworn in as a deputy. The only thing I've found as weird as a black NBA player being sworn in as deputy was when I learned that Karl Malone purchased an 18-wheeler just so he could drive around in an 18-wheeler.
Probably shocking to no one is that Shaq supports the National Rifle Association's efforts to leave gun laws—more specifically, the legal age of gun purchase—alone, and his answer to stopping gun violence in school? You guessed it: more police.
"The government should give law enforcement more money," he said on WABC Radio's Curtis and Cosby show. "Give more money, you recruit more people, and the guys that are not ready to go on the streets, you put them in front of the schools. You put 'em in front of the schools, you put 'em behind the schools, you put 'em inside the schools, and we need to pass information. ... I would like to see police officers in schools, inner cities, private schools."

G/O Media may get a commission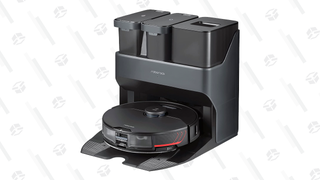 24% off
Roborock S7 MaxV Ultra Robot Vacuum and Mop
To truly understand O'Neal, just know that this great big black man lives in Florida by choice. He noted during the radio show that he doesn't live far from the Parkland high school where 17 children and school staff were shot and killed.
"You know it was a very, very sad incident," he said. "Close to my heart. I actually live in Fort Lauderdale; I actually knew the sheriff, called him and told him he did a wonderful job."

O'Neal not only voluntarily went through the police-academy program but also announced in November that he plans to run for sheriff in Georgia in 2020. That news would be great if O'Neal actually remembered his Shaq-Fu days and was willing to use his celebrity to reach the kids he would be expected to arrest. The problem is that O'Neal's politics seem like more of the same.
In 2013, O'Neal not only supported but endorsed Chris Christie for governor of New Jersey.
Shaq also denounced Colin Kaepernick's protest against the killings of unarmed black men, women and children during an appearance on Fox & Friends. Also, Shaq made an appearance on Fox & Friends.
Shaq, who isn't reading from a talking points memo distributed by the NRA, doesn't believe that a ban on automatic weapons could curb violence.
"There's a lot of those weapons already on the streets. So it's not like, if you say, OK, these weapons are banned, people are gonna go, 'Oh man, let me turn it in.' That's definitely not going to happen," O'Neal said. "'Cause once you ban 'em, now they're going to become a collectors' item and you're going to have people underground and they were $2,000. ... 'I'll give you $9,000 for that gun.' So, you know, we just need to keep our eyes open."

But O'Neal may still have a little Shaq-Fu left in him, as he did note that he supports the students who are marching to protest gun violence in schools—he just doesn't believe, as many of them do, that standing up to the NRA would help.
"I wish I could join 'em, but you know, hopefully it sends a message to the powers that be," he said. "'Cause we have to stop this. ... I would like to see tougher background checks. If you can't protect our children in school, where are they safe?"
If only there were a big black man with a powerful voice who once believed himself to be a rapper who would be willing to stand up to another big powerful group that continues to sell guns to minors. If I had one wish, I'd wish for that powerful Hall of Fame basketball player to use his voice to champion those who look just like him.
Maybe I should ask this guy for help: