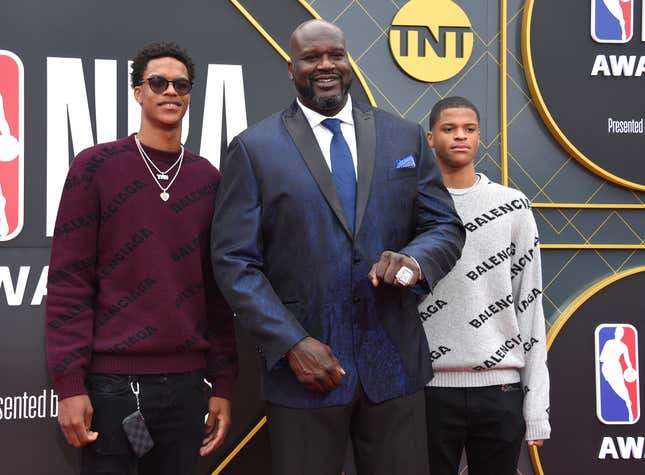 If you think being one of former NBA star Shaquille O'Neal's six kids means having an endless supply of disposable income, think again. The four-time NBA champ, who just so happens to be worth $400 million, has a plan in place to teach his offspring a little something about the value of money.

Tackling A Black Maternal Health Crisis & Embracing Reproductive Justice | The Root Institute
In a recent interview with Insider, O'Neal said he makes his kids work hard for those coins. Rather than shelling out his cash, no questions asked, Shaq says he prefers to use "respectable nepotism" with his kids, who are ages 17 to 27. If they want Daddy to open up his wallet, Shaq's children are required to present him with a "business plan" to back up their request – à la Shark Tank. 
"Since you want me to be the bank, I'm gonna do exactly what the bank is going to do to you," Shaq told Insider. "I'm not just gonna give you money for a party."

As a mom of two who will likely never see a fraction of the seven-foot baller's net worth, I completely understand where Shaq's coming from. Studies have shown that giving your kids a foundation in financial education early sets them up for success later in life, including lower debt levels, higher savings, and higher credit scores. Teaching them about money when they're young makes them less likely to have to come to your for handouts (I mean, loans) when they're older.
When Shaq's oldest son Myles told him he wanted to be a DJ, the former Laker agreed to put up the money for the equipment he needed to get his dream off the ground. And it looks like he's getting a good return on his investment. The 26-year-old may not have followed his dad on to the basketball court, but he did inherit his dad (aka DJ Diesel's) skills on the turntables, performing with top electronic artists, holding down a Vegas residency and a multi-city US tour.
The proud papa calls his son "one of the top DJs in the world." And he's done it by himself," Shaq said.
As for his three youngest kids, Amirah, Shaqir, and Me'arah, Shaq says they haven't pitched him anything yet, but he says he hopes he can "bribe" them to stay in school.
"I'm like, 'If you go to law school and graduate, you get a big bag,'" Shaq said. "Because out of my six, they're the smartest; they're the ones that are probably gonna run the company."