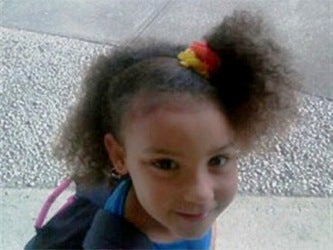 The murder of 5-year-old Shaniya Davis, whose body was recently found abandoned in a wooded area of North Carolina, is yet another gruesome reminder of the pervasive violence against girls. Shaniya's mother, Antoinette Davis, is charged with trafficking her daughter and child abuse involving prostitution.
Shaniya's story is a heartbreaking one. And it—finally—highlights the issue of sexual violence and exploitation of girls—a problem that is becoming more rampant within U.S. borders. But in one respect, Shaniya's case is an aberration. Most girls are trafficked by men and pimps, not their mothers.
How many times a month, or in the duration of a year, do we learn of the rape, kidnapping and murder of a girl? In the context of a civilized society, the epidemic level of violence against our girls remains an irreconcilable contradiction.
Here are the unacceptable facts of violence against girls: It cuts across any divide of race, class, ethnicity and educational background. One in four girls will experience some form of sexual violence by the time she reaches 18. Teenaged girls of all races, from across the economic spectrum, are four times more likely than the general population to be victims of rape, attempted rape or sexual assault. For girls and women ages 15-44, homicide is the leading cause of death. And then there are the countless faces of girls listed as missing in newspapers, on milk cartons or posted signs.
So many of them, like Shaniya, were also subject to being trafficked. It is presently less risky and more profitable to sell girls rather than illegal drugs. As evidenced by the war on drugs or the fierce police response to the trafficking of meth, there are severe repercussions in a culture of crime and punishment for illegal drug trafficking. There is a significantly less punitive culture for selling girls. Rarely do pimps or clients receive serious prison sentences for exploiting girls.
What is happening that girls' lives are worth so little?
Perversely, it is the girls—not the men—who suffer from any kind of criminalization of trafficking. Girls who've been trafficked frequently end up arrested for prostitution; prostitution is among the leading reasons for girls' incarceration. Girls arrested for prostitution are detained in juvenile facilities, where they are often subject to more incidents of sexual abuse by the staff.
In the juvenile justice system, 73 percent of girls have been subject to sexual abuse prior to incarceration. A recent Oregon Social Learning Center study of chronically delinquent girls found that the median age of first sexual encounter among detained girls was 7. The typical age of a girl being trafficked is 14.
And remember, these are not girls from other countries. They are American girls, girls from places like Dayton, Ohio and Compton, Calif. In small towns and large urban areas, they are kidnapped or tricked by pimps into a life of prostitution.
I first encountered these vulnerable girls as a law student trying to think about how to bring the issue of women's rights as human rights home to the U.S. During those years, I met young women in Washington, D.C., Ohio and California who had been brutally trafficked, abused, molested and raped—just like girls in developing nations. Yet they were not usually perceived as victims. Instead they were cast as "hos," prostitutes or "bad girls" dispatched to youth detention centers. No one was talking about educational initiatives, micro loans, psychiatric services or human rights for them.
Now, years later, these girls remain at the margins, forgotten and judged. There are few, if any, safe havens or gender specific, trauma-based programs for vulnerable girls. As the founder and executive director of a U.S.-based human rights and advocacy organization, I continue to see these girls, left behind in abusive homes, locked down in detention facilities or on street corners.
There is a rightful public outcry against the severe exploitation and trafficking of girls in Europe, Africa and Asia. A growing and powerful movement is emerging to shine light on girls in developing nations who are denigrated or cut down by violence. It is time to do that for girls in America, too—for girls like Shaniya who deserve to be safe and loved.
Malika Saada Saar is the executive director of Washington, D.C.-based The Rebecca Project for Human Rights.