Seven African-American mayors you haven't heard about yet: We know you're familiar with Kwame Kilpatrick, Sheila Dixon and Twitter superstar Cory Booker. But don't think that means you're on top of your black-mayor trivia. The Atlanta Post has rounded up a list of "seven municipal leaders that, although are overlooked by the national spotlight, have earned distinction (not all good) in their communities." Check it out so that you'll already be in the loop when the next black political superstar — or scandal maker, whatever the case may be — hits the headlines. 
____________
Why do people get violent at McDonald's? Everyone saw the disturbing video of last week's brutal assault of a transgendered woman at a McDonald's near Baltimore. The restaurant said in a statement: "There's no room for violence under the Golden Arches." But according to Slate, "in the annals of American crime, the fast-food-chain assault has become as iconic as the postal-worker shooting spree." The proposed explanation for "McRage"? The restaurant's vulnerability to robbery, combined with the demographics and stress levels of customers.
____________
Pictures from behind the scenes of Alicia Keys' breast cancer film: Alicia Keys is among five celebrity directors putting together a short for Lifetime's upcoming original movie, Project Five, which will use personal narratives and survivor stories to raise breast cancer awareness. (The network says the films will be educational and enjoyable, with a mix of humor and drama.) BVX has pictures of Keys and cast members Rosario Dawson, Tracee Ross and Jennifer Lewis hanging out on the set.
G/O Media may get a commission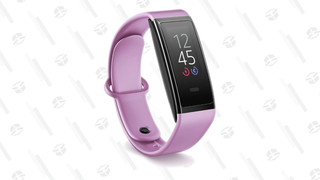 44% Off
Amazon Halo View Fitness Tracker
____________ 
Royal-wedding spoof: T-Mobile's take on the royal-wedding procession celebrates the marriage of William and Kate with the help of a host of look-alikes and music from East 17. It's one part tradition and one part Soul Train line. Whether you're over the hoopla about the nuptials or "can't wait to watch," like The Root's Maria Nicole Smith, it's good for some comic relief.
In other news: Maternal Death and African-American Women: Alarming Study.
Like The Root on Facebook. Follow us on Twitter.