On Monday, tennis champion Maria Sharapova made an announcement that shocked the tennis world: Sharapova said she was informed by the World Anti-Doping Agency that she had failed a drug test at the Australian Open in January. Sharapova tested positive for mildronate, also known as meldonium, which was added to the prohibited-drug list this year.
LeVar Burton Is Still Championing Literacy In "The Right to Read"
According to Sharapova, she was taking the drug because of health issues.
"I was getting sick very often and I had a deficiency in magnesium and a family history of diabetes, and there were signs of diabetes," Sharapova said. "That is one of the medications, along with others, that I received."
It's interesting to see Sharapova's P.R. machine at work, and some have even pointed out that the lack of backlash so far has to do with her own white privilege.
Throughout Sharapova's tennis career, one of her biggest competitors has been Serena Williams. The rivals have squared off several times on the tennis court, and even though Williams is considered the better athlete, you wouldn't be able to tell that by the number of endorsements Sharapova has received, making her the world's richest female athlete. Many Sharapova fans have made disparaging comments about Williams, especially when it comes to her looks, and have always compared the two women. 
But in the spirit of a true champion, when asked about Sharapova's drug test, Williams showed nothing but support for her rival.
G/O Media may get a commission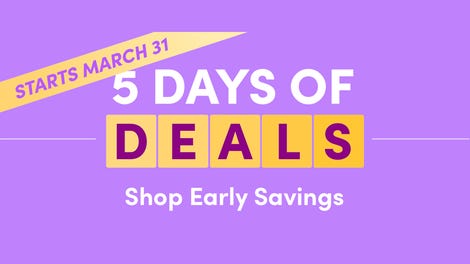 Sale sale sale
Early Savings - Wayfair's Five Days of Deals
"Most people were surprised and shocked by Maria, but at the same time, most people were happy that she was up front and very honest and showed a lot of courage to admit to what she had done and had neglected to look at in terms of the list at the end of the year. With that being said, it's just taking responsibility, which she has admitted that she was willing to do and ready to do," Williams said of Sharapova Tuesday.
"I just hope for the best for her in that situation," Williams added.
A punishment for Sharapova has not been announced as of yet, but it'll be interesting to see what is handed down. Now just imagine Williams being in Sharapova's position. I'm sure the media would have been having a field day.