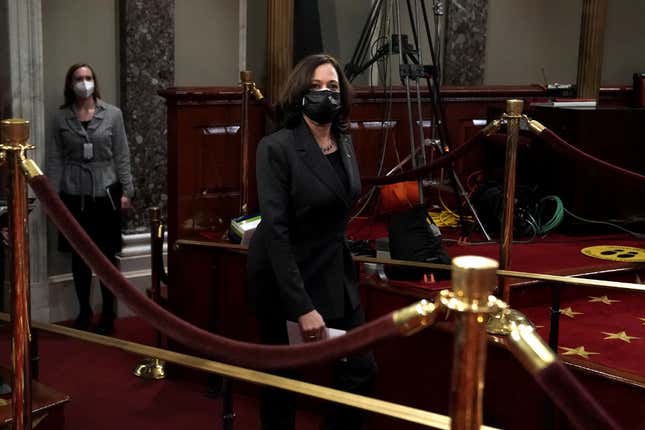 The U.S. Senate approved a budget bill in the wee hours of Friday morning and after a voting session that lasted around 15 hours because Republicans and Democrats are still the Bloods and Crips of the political world, and there was plenty of beef to be had behind partisan agendas.
Courtney B. Vance in Heist 88 Is Our Black TV Pick of the Week
The good news is that President Joe Biden's $1.9 trillion (with a T) coronavirus relief package is steps away from being passed even without Republican support. The bad news is that the budget bill approved by the Senate does not include a $15 federal minimum wage increase. The agreement also includes limiting high earners from get $1,400 stimulus checks. Who do they mean by "high earners"? Still yet to be determined, but if Republicans have a say, most Americans will probably become "high earners."
Anyway, the New York Times reports that the bill passed along party lines with a 51-50 vote which came just after 5:30 a.m. Vice President Kamala Harris got to the Senate dais early in the morning to cast her first tie-breaking vote.
So let's get into some of the budget proposals that passed and failed starting with the minimum wage increase to which some senators said, "nah" while others said, "not yet."
From the Times:

By a voice vote, senators backed an amendment from Senator Joni Ernst, Republican of Iowa, to "prohibit the increase of the federal minimum wage during a global pandemic." It was a signal that the wage increase would be difficult to pass in an evenly split Senate, where at least one Democrat, Senator Joe Manchin III of West Virginia, is on record opposing it.

"A $15 federal minimum wage would be devastating for our hardest-hit small businesses at a time they can least afford it," Ms. Ernst said on the Senate floor. "We should not have a one-size-fits-all policy set by Washington politicians."
To the surprise of Ernst and probably everyone else in America, Vermont Sen. Bernie Sanders, aka Sir Mittens, King of Memes, agreed that now was the wrong time to pass the minimum wage hike. Sanders—who has advocated for raising the national minimum wage for some time—said that it was never his plan to pass minimum wage legislation during a pandemic and that what he has proposed would carry the increase out over a span of five years.
According to the Times, House Speaker Nancy Pelosi said during the debate that the push to raise the minimum wage isn't over.

"It's not the last bill we'll pass," she said. "This is the rescue package."

A few of the Republican amendments that failed include a proposal to bar funding for schools that don't reopen for in-person classes once teachers are vaccinated and one to block funding for sanctuary jurisdictions that do not cooperate with federal law enforcement. A Republican-backed measure "to reduce funding to states like New York, which is under investigation over coronavirus deaths in nursing homes" also failed, the Times reports.

Washington Sen. Patty Murray (D) pointed out that the proposal to limit school funding over continued COVID caution is, well, stupid AF.

"If we withhold funds and schools cannot implement health safety protocols, then we are acting counter to actually getting students back in the classroom," Murray said.

Meanwhile, Senate Minority Leader Mitch McConnell (R-Ky.), aka Old-Age Mutant Ninja McConnell, was just salty that the Democrats were hopping off of the bipartisanship train and moving to pass the stimulus package he doesn't think America needs.

"This is not the time for trillions more dollars to make perpetual lockdowns and economic decline a little more palatable," McConnell said, the Washington Post reports. "Notwithstanding the actual needs, notwithstanding all the talk about bipartisan unity, Democrats in Congress are plowing ahead. They're using this phony budget to set the table to ram through their $1.9 trillion rough draft."

McConnell is the king of pretending that Republicans don't push Republican shit when they're in control regardless of Democratic opposition. Cry me a red river.

After all, there were budget measures that passed because the Bloods and Crips called a quick gang truce. According to the Post, an amendment proposed by Sens. Joe Manchin III (D-W.Va.) and Susan Collins (R-Maine) ensuring that "upper-income taxpayers" don't get stimulus money passed with a 99-1 vote.
After the vote-a-rama—for which more than 800 amendments were drafted—finally drew to a close, Sanders had his final say.

"We now come to the end of the debate that has gone on for over 14 hours, and we end this debate in a moment in which our country faces more crises, more pain, more anxiety than any time since the Great Depression," Sanders said. "But we have the opportunity to give hope to the American people and restore faith in our government by telling them that tonight we understand the pain that they are experiencing and we are going to do something very significant about it."

According to the Post, the House is poised to vote on a budget plan Friday, so let's hope those stimmy checks are in the mail soon.

Updated, 2/5/21: 2:43 p.m.: Voting mostly along party lines, the House approved a budget after the Senate approved its bill early Friday morning, and House Speaker Nancy Pelosi set a two-week deadline as Democrat seek to swiftly pass President Joe Biden's COVID relief package so that stimulus checks can begin arriving before federal unemployment benefits expire in mid-March, according to the Washington Post.