Sen. Tammy Duckworth (D-Ill.) might be the toughest member of Congress, and yes, I'm fully aware that veteran and war hero John McCain is still the senior senator from Arizona.

Duckworth, who served as an Army pilot during the Iraq War, lost both of her legs after her plane was shot down in 2006. Duckworth never let anything stop her and is currently one of the few Democrats who openly challenge the president, whom she aptly named "Cadet Bone Spurs" over his draft-dodging ways and his boneheaded decision-making regarding everything, really, but mostly the military.
On Monday, Duckworth added another gangster accomplishment to her list of awesomeness, becoming the first sitting senator to a deliver a baby, and she is one of just 10 female lawmakers to bear a child while serving in Congress.
According to the Washington Post, Duckworth, 50, and her husband, Bryan Bowlsbey, welcomed Maile Pearl Bowlsbey, named after Bowlsbey's great-aunt, who served as a nurse in the Army during World War II.
G/O Media may get a commission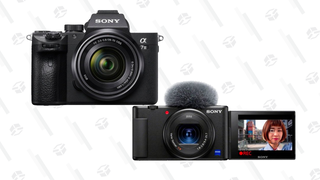 Cyber Monday Deals
Sony Camera Sale
"Bryan, Abigail and I couldn't be happier to welcome little Maile Pearl as the newest addition to our family, and we're deeply honored that our good friend Sen. Akaka was able to bless her name for us—his help in naming both of our daughters means he will always be with us," Duckworth said in a statement Monday, the Post reports.
"Sen. Daniel Akaka—a Democrat from Hawaii who served in Congress for more than three decades—died Friday at age 93. He was previously responsible for giving Duckworth's first daughter, Abigail, her middle name of O'kalani," CNN reports.
Duckworth added that being a parent of small children—their first daughter was born in 2014—offers her a perspective that is unique to debates on policy surrounding families and child care.
"Parenthood isn't just a women's issue; it's an economic issue and one that affects all parents—men and women alike," she said, the Post reports. "As tough as juggling the demands of motherhood and being a senator can be, I'm hardly alone or unique as a working parent."

CNN notes that Duckworth is doing fine and is expected to take 12 weeks of maternity leave but will stay in Washington, D.C., so that she can be available to vote as needed.