The search for Markeith Loyd, 41, is entering its second week as authorities filter through tips that continue to come in, WOFL reports.
Loyd is wanted for the killing of Orlando, Fla., Police Master Sgt. Debra Clayton outside a Wal-Mart on Jan. 9. He is also wanted in connection with the slaying of his pregnant ex-girlfriend, Sade Dixon, 24.
So far, two women and a man have been charged with helping Loyd evade authorities. However, Orange County Sheriff Jerry Demings said that new information is coming in every day, and Orlando Police Chief John Mina said that the suspect will be apprehended soon.
"Overnight, we had several additional tips come in that look promising to us, so we're still very very much focused on bringing to justice this individual," Demings said.
"We believe he's going to be captured soon. It's only a matter of time," Mina added. "We have a lot of resources that are dedicated to capturing him. We have A-teams in place ready to go should we have a tip where he is."
G/O Media may get a commission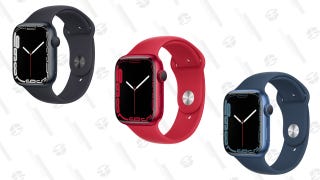 Up To $45 Off
Apple Watch Series 7
Both law-enforcement officials acknowledged the community's fear during a time when tensions are high, but pleaded for patience.
"We see the community's frustration and we're frustrated and we're angry as well. No one wants him behind bars more than the family and Debra Clayton's police family," Mina said.
A reward of $100,000 is still being offered for information leading to Loyd's arrest.
Read more at WOFL.