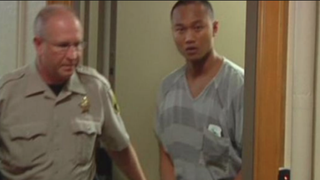 Joseph Patterson will spend the rest of his life behind bars for the murder of Minnesota Vikings running back Adrian Peterson's 2-year-old son.
Patterson, 29, was convicted of second-degree murder in September and was sentenced Thursday to life in prison in South Dakota, the Associated Press reports.
According to AP, an autopsy concluded that the child, Tyrese Robert Ruffin, suffered four blows that couldn't have been accidental. He died in October 2013 as a result.
Patterson was dating the child's mother at the time the fatal beating occurred, while the NFL player, Peterson, had only met his son two months before.
Peterson had been working out visitation arrangements with the child's mother when he learned that Tyrese was in a South Dakota hospital. Peterson made it to the hospital and was able to visit with his son one day before he died, AP reports.
Read more at the Associated Press.