How many people does it take to save Olivia Pope? So far it looks like it takes at least one president, one first lady, one former head of B613, one Secret Service agent, one attorney general, two gladiators and a Republican National Committee chairwoman …
First things first, though: This Thursday's episode of Scandal—a show created by Shonda Rhimes and starring Kerry Washington—was written by Raamla Mohamed and directed by Debbie Allen and had a guest appearance by Marla Gibbs.
Happy Black History Month, y'all! 
Now let's sort out all of these moving parts …
Team Fitz, Tom, Jake and Huck
Vice President Andrew Nichols, pulling strings we didn't know he had to pull, ordered the Secret Service to keep an eye on Fitz Grant to ensure that he didn't inform the CIA, FBI or NSA that Olivia had been kidnapped.
So Fitz asks Secret Service Tom, who killed Fitz's son, where is the safest place to meet Jake Ballard to give him an Olivia update. Tom tells Fitz to meet Jake at Olivia's apartment, but not before letting Fitz know that he's "sorry not sorry" for killing his son.
Fitz meets Jake at Olivia's apartment and hands over a video of Olivia explaining that Fitz has 48 hours to declare war on West Angola. So Jake brings the video to Huck, who notices that the glass that Olivia intentionally held up during the video reflects the face of her captor, Ian. Huck renders some pixels or something to piece together a composite image of Ian, but it's not good enough to match anyone in the bad-guy database.
G/O Media may get a commission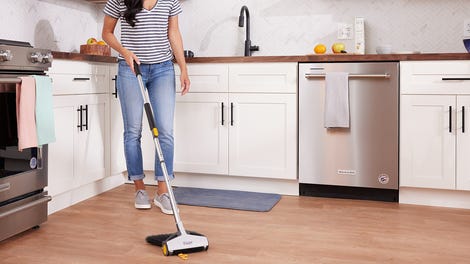 BOGO 50% Off
Flippr - BOGO 50% Off
Team Rose, Quinn, Huck and Jake
Meanwhile, an older lady named Rose, played by Gibbs, shows up at Pope & Associates asking, "Where is the black lady?" Rose is friends with Lois, Olivia's across-the-hall neighbor whose apartment (and corpse) was used to facilitate Olivia's kidnapping. When Rose tells Quinn that Lois is missing and Olivia isn't answering her door either, Jake, Quinn and Huck break into Lois' apartment, and Huck immediately finds the ring that Olivia intentionally left behind as proof that she was there. They trace the activity on the wireless router in Lois' apartment back to Olivia's kidnappers and match a photo of them with the composite image of Ian's face. Boom.
Team Huck, Elizabeth, Mellie, Jake, Quinn and David
Huck also shows up at Elizabeth's house in the middle of the night and threatens to chop her daughter's head off if Olivia isn't returned. Yowser. As it turns out, Elizabeth thought a war on West Angola would be good for the Republican Party, the country, and Andrew's and Elizabeth's careers, but not only did Elizabeth not get the memo that her pompadour was so last year, but she also didn't get the memo that Andrew had kidnapped Olivia. Elizabeth's plea for Andrew to return Olivia was unsuccessful. Andrew basically said, "Chill out, I got this. I'm going to be the next president. You better get on board or you're going to miss this train."
So Huck showed up at Elizabeth's house in the middle of the night once again, this time with his torture tools, and carved up Elizabeth's back. "Lizzy gon' learn today."
We also learn that Mellie Grant might be in cahoots with Andrew on this kidnapping plan because she and Andrew have a plan to stay in the White House for another eight years, but Elizabeth is certain that Huck is going to kill her if Olivia isn't returned. So Mellie sleeps with Andrew, and while he is asleep, she steals his cellphones and hands them over to Elizabeth, who hands them over to Huck, Quinn and Jake.
They trace the cell to fake-hostage camp, which is in Pennsylvania, and Jake gets Attorney General David Rosen—who can't wait to get the credit for saving Olivia—to order a drug raid on the camp, but Olivia and Ian are gone by the time they get there.
Team Olivia
See, while everyone is teaming up to save Olivia, Olivia is still trying to save herself. Olivia has figured out that Andrew's plan is to hold her hostage through the end of Fitz's term and then have her killed. So Olivia convinces Ian that he would be more powerful and much richer if he auctioned Olivia on the open market to whoever else wanted the opportunity to be Fitz's puppet master. With the quote of the episode, she asks Ian, "Are you a babysitter or a boss?"
The next thing you know, Olivia stops by the Dominican salon to get a fresh press. Then she stops by the Limited to pick up a few items from her spring collection, and boom, Olivia and Ian are off on a jet preparing to sell Olivia on the auction block.
Once again, happy Black History Month, folks!
Akilah Green is a recovering Washington, D.C., lawyer-lobbyist-politico turned TV and film writer and producer living in Los Angeles. She currently works for Chelsea Handler's Netflix talk show, Chelsea. She has also worked as a staff writer for Kevin Hart's production company, HartBeat Productions, and as a consultant for Real Time With Bill Maher on HBO. In addition, she co-wrote and is producing Scratch, an indie horror-comedy feature film, and is a regular contributor to The Root. Follow Green's adventures in La La Land on her blog, Twitter and Facebook.