Admit it. You were more than a little disappointed when it turned out that Olivia's mom wasn't Whitley Gilbert. How awesome would that have been? Still, despite the glaring omission of A Different World-meets-Scandal mashup that "I love the '90s" afterschool specials are made of, this week's episode of everyone's favorite melodrama was all about nostalgia. So many of our heroes want to relive, forget or outrun the past.
First off, Khandi Alexander stepped into the Scandal-verse as Maya Lewis, Olivia Pope's mother. Was I the only one who couldn't forget Alexander's 1990 turn as Sissy the gold-digging groupie of CB4? But leopard-print cat suits and side splits are hardly the stuff of bougie black moms like Maya Lewis.
We got a brief glimpse of what life must have been like in the Pope castle with 12-year-old Livvie having Froot Loops and Bridge to Terabithia for breakfast. It's sweet, normal even. But then Mama Pope heads off to Europe for a work trip and ends up dying in a fiery plane crash, cementing a lifetime of tough exteriors and terrible choices in men for her daughter.
After last week's episode, fans learned that Mama Pope's untimely demise was anything but an accident. And Fitz, Olivia's former boss-lover-friend, might have had something to do with it. And Rowan, Olivia's father-hater-archenemy, might have had something to do with it too. So the younger Ms. Pope is stuck between a rock and a heartache. Add to that the fact that Fitz, who maybe sorta kinda killed her mom, wants Olivia to come work on his re-election campaign.
"We could try to be us again," he tells Olivia. Gross. Every time I see Fitz I want to boo. Not for playing with Olivia's emotions but for that one time when he killed Demi Moore's boyfriend and tried to steal a bunch of money. I was all of 10 years old when Ghost came out, and that scene when Goldwyn's bad-guy character gets dragged down to hell by those shadow demons is still etched on my brain. The very same thing might happen to Fitz, especially if he turns out to be more psychopath than president.
G/O Media may get a commission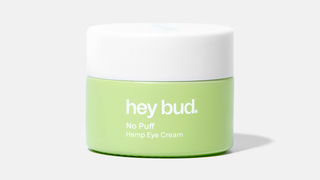 15% off
Hey Bud - No Puff Hemp Eye Cream
Speaking of shady pasts, Harrison's finally got one. For three seasons he's been the only person on the OPA payroll who didn't have some black mark on his soul for Olivia to wipe clean. Almost everyone on Earth is indebted to Olivia in some astronomical way. But Harrison? He was just a former car salesman. Or so we thought. After Harrison refuses to try to convince Olivia to dump her latest client, professional monster Cyrus threatens him with a name: Adnan Salif. We know nothing about this Salif guy except that his name sounds scary, according to stereotypes, and that he's trying to get back to the United States from Switzerland.
"If Adnan Salif steps foot onto U.S. soil, I'm a dead man," Harrison tells his buddy Huck, in the hopes that he can block this Salif guy from getting into the country. But since Cyrus doesn't make idle threats ever, Salif's already on his way. We still don't know much about Harrison's backstory but at least now he has one.
Finally, it's Quinn Perkins—the woman whose shadowy past pretty much dominated the entire first season of the show—who ties a neat bow with all the wayward threads of Olivia's life. Because she's determined to become more interesting in general, Quinn is currently interested in murder as a new hobby. So she meets Huck's former B613 buddy at the gun range as one does, and they strike up a strange friendship.
"I need your professional opinion here, Huck, in B613 is anyone able to get out and be normal?" she asks Huck, who is increasingly becoming OPAs in-house therapist. "Or are you just completely messed up for the rest of your life?"
No truer words have ever been spoken about the entire cast of this show. Turns out Quinn's good for something—being "sorry not sorry" and pointing out the obvious that's not that obvious. Olivia can't "leave the past in the past" like her dad wants her to. Fitz is still holding out hope that Olivia can get past the fact that he probably blew up her mom. Harrison's history has booked a one-way ticket to D.C. And Quinn is bringing B613, the spy agency everyone's trying to get away from, right to Olivia's front door. The past might as well get a credit on the show because without it our gladiators wouldn't have anything to run from.
Helena Andrews is a contributing editor at The Root and author of Bitch Is the New Black, a memoir in essays. Follow her on Twitter.
Helena Andrews is a contributing editor at The Root and author of Bitch Is the New Black, a memoir in essays. Follow her on Twitter.