An Edisto Island, S.C., woman died after being arrested at a hospital over the summer. According to statements from family attorneys Wednesday, she died because she was deprived of water at the Charleston County jail,  the Post and Courier reports. 
Joyce Curnell, 50, was found dead at the jail shortly before 5 p.m. on July 22, just one day after being taken from Roper Hospital, where she was being treated for gastroenteritis, an irritation of the stomach and intestines. 
During her last 27 hours of life, which she spent behind bars, Curnell reportedly became too sick to eat or call for help, according to court documents filed this week, the Post and Courier notes. Curnell vomited through the night and could not even make it to the bathroom, so jailers gave her a trash bag to use. Medical staffers reportedly ignored jail officials' requests to tend to the ailing inmate. 
This, the site notes, is what prompted the family to file a notice Wednesday, signaling their intention to sue the jail's medical contractor, the Carolina Center for Occupational Health, for malpractice. According to the report, a local doctor consulted as an expert witness, Maria Gibson of the Medical University Hospital, said that the death "more likely than not" could have been prevented if Curnell had been properly treated. 
"Providing access to reasonable medical care to those under police custody is a necessity, not a privilege," family attorney James Moore III said. "It is a constitutional right. We are committed to seeking justice for Joyce and for her family."
G/O Media may get a commission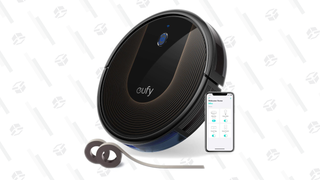 48% Off
Eufy BoostIQ RoboVac
Curnell was one of at least six black women who died in police custody in July. Her case came some weeks after Sandra Bland was found hanged in a Texas jail from a reported suicide after being taken in during what was meant to be a routine traffic stop. 
Curnell's case started around noon on July 21, when she was taken from Edisto Island by ambulance after complaining of nausea and vomiting due to gastroenteritis. While she was at the hospital, it was discovered that she had a bench warrant out for a 2011 shoplifting case. Curnell had reportedly been put on a payment plan in April 2012 to cover the $1,148.90 fines, but she stopped paying in January 2013. After she did not respond to a court letter, the warrant was issued in August 2014. 
According to the Post and Courier, it is unclear how law enforcement became aware of the warrant while she was receiving treatment in the hospital. 
Curnell was hydrated and given medication at the hospital and told to seek medical attention if she continued to experience bad symptoms before being discharged. She was then taken to jail. By the next day, she was dead. 
Gibson said that Curnell's death was due to "a series of conscious violations."
"Simply put," Gibson said, "Ms. Curnell died because she was deprived of water."
Read more at the Post and Courier.