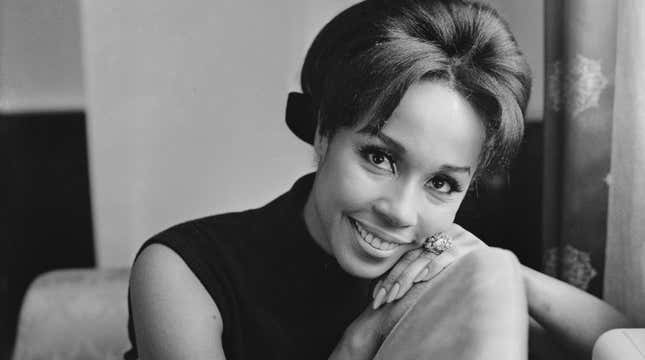 How does one say farewell to an icon?
On Sunday, the best in black excellence gathered to bid Diahann Carroll adieu. It was a cold and dreary day in New York City, but there was a buzz in the Helen Hayes Theater on Broadway. There were plenty of hugs and handshakes in the crowd—even a glimmer of optimism. Attendees like Samuel L. Jackson, Phylisha Rashad and Blair Underwood, among others filled the packed theater. They were celebrating life—not mourning a loss. There's a difference.

This Juneteenth We Revisit The Anderson .Paak BLM Track "Lockdown"
Perhaps onlookers were celebrating Diahann Carroll's history-making accomplishments. After all, the trailblazer was the first black woman to win a Tony for Best Actress in a Musical—for her 1962 musical, "No Strings." In Julia, Carroll became the first black woman to lead in a primetime television in a non-domestic role. In 1969, she went on to win a Golden Globe for Julia, as the Best Actress in a television series. Or maybe they celebrated her sartorial splendor? Y'all, Diahann Carroll had LEWKS.
This is certain: Carroll passed away at 84-years-old and her accomplishments and contributions to this world are innumerable—which makes saying "goodbye" so difficult—but we still hold on to a sense of joy for her many accomplishments.
In just over an hour-long program hosted by Ms. Carroll's only daughter, Suzanne Kay, luminaries like Cicely Tyson, Lenny Kravitz, Angela Bassett, Laurence Fishburne and Carmen de Lavallade paid their respects to the queen with poetry, prose and musical selections.
The program opened with a performance of "A Sleepin' Bee" performed by Denée Benton. Kay noted that the song was from House of Flowers—a play that was Carroll's introduction to the world. "In this celebration of life for my mother, I decided to start when she was introduced to the world with House of Flowers. As the program moved along, reflections from 94-year-old Cicely Tyson stood out.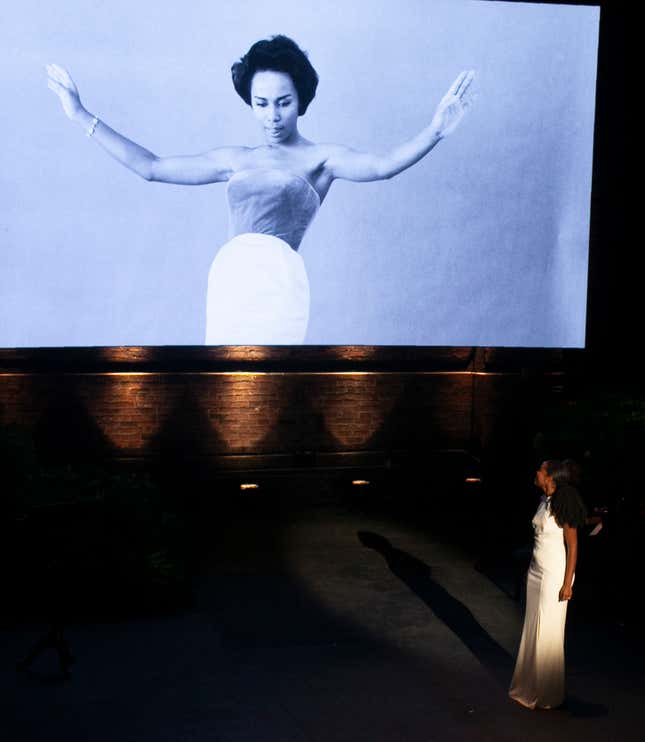 Tyson met Diahann Carroll at the opening of "No Strings." Over the decades their friendship grew. During the course of Diahann Carroll's illness, the actress came to Tyson several nights in a dream. And Tyson made a decision to see Diahann Carroll, a decision for which she remains grateful. "I didn't know what to do. I didn't know what to say. I wanted to hug her and say, 'Please don't.'"

The living legend continued, "I don't know what I would have done had I learned that she passed on if I had neglected to go see her. I consider that a special blessing."

Lenny Kravitz met Diahann Carroll in 1977 after moving to Hollywood with his mother, Roxie Roker. He was embraced by Carroll and would soon refer to her as 'Aunt D.' "Sometimes family is not only defined by blood," said Kravitz.
"Somehow Spirit brought us together in this life experience. We are on this journey together not because of obligation, but because of choice. How beautiful," said Kravitz.
"Diahann Carroll was a pioneer who forever changed the status-quo, especially for women of color."
The reality is, Carroll had a clear sense of self, and a clear vision that in part shaped a bit of who we are as black women: actors, singers, models who understand our worth and demand it. We stand on the shoulders of giants. Though the world lost Diahann Carroll in Oct. 2019, her contributions live on.