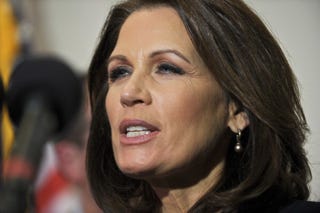 While others have dismissed Tea Party darling Rep. Michele Bachmann (R-Minn.), the Washington Post's Jonathan Capeheart is paying close attention to Bachmann, who gave the Tea Party response to President Obama's State of the Union address. Bachmann, who has presidential aspirations and wants to cut NASA, public school funding and a host of other things, has an "absolutely amazing" view of history. Her penchant for revising history is quite interesting. Capeheart points out that Bachmann spoke at an Iowans for Tax Relief event over the weekend and "blipped" his radar with this musing on the early settlers, who "had different cultures, different backgrounds, different traditions":
"How unique in all of the world, that one nation that was the resting point from people groups all across the world. It didn't matter the color of their skin, it didn't matter their language, it didn't matter their economic status. … Once you got here, we were all the same. Isn't that remarkable? It's absolutely remarkable."
That is pretty remarkable — race, culture and class didn't matter when our country was founded. Uh-huh.
Bachmann also raised Capeheart's eyebrow with her musings on slavery — a "scourge" — and the Founding Fathers, who she said "worked tirelessly until slavery was no more in the United States." She stated:
"I think it is high time that we recognize the contribution of our forebearers who worked tirelessly — men like John Quincy Adams, who would not rest until slavery was extinguished in the country."
Worked tirelessly? Uh-huh. Capeheart and Talking Points pointed out that John Quincy Adams wasn't one of the founders and that he died 15 years before the Emancipation Proclamation. It is clear that Bachmann is betting on the country's ignorance about such issues, since she so freely spews misinformation and historically inaccurate data at her speeches.
We don't find it as funny as we do scary, because she was elected to public office doing exactly this: misrepresenting historic and current events. Capeheart calls it musings — we call it lying. Capeheart warns Gov. Haley Barbour and Bachmann, who both have presidential aspirations and a knack for revising history, that if they don't deal with the past more clearly and honestly, they won't get very far. We hope that's true, but somehow we're not convinced, because revising history hasn't counted against them yet.
Read more at the Washington Post.
In other news: Tortured Soul: Gitmo Detainee Gets Life Sentence in Embassy Plot.