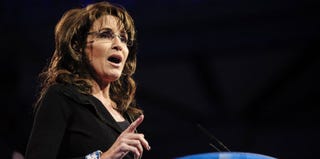 On Saturday, former vice presidential nominee Sarah Palin brought her folksy charm to the Conservative Political Action Conference (CPAC) in Maryland with a speech in which she made fun of President Obama for his support of gun control and background checks, reports USA Today.
During her address to the Conservative Political Action Conference, or CPAC, Palin accused Obama of failing to lead, instead maintaining a permanent campaign approach of demonizing the opposition.

True leadership, she said, means "ending the poisonous practice of treating members of different social, ethnic and religious groups as different electorates, pandered to with different promises." If all men are created equal, as the Declaration of Independence states, Palin said, then there are "no Hispanic issues or African-American issues or women's issues — there are only American issues."

The former Alaska governor also mocked Obama's proposals for stricter gun rules, tying the issue to conspiracy theories about the president's own citizenship. "More background checks? Dandy idea, Mr. President — should have started with yours."
Read more at USA Today.