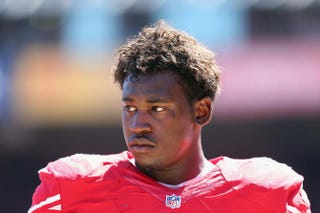 San Francisco 49ers linebacker Aldon Smith was arrested on Sunday after making a bomb threat during a security screening at Los Angeles International Airport on Sunday, CBS News reports.
According to the report, Smith was randomly selected for a second screening but became argumentative and uncooperative, airport police Sgt. Karla Ortiz said. He told a Transportation Security Administration agent that he had a bomb before going to his gate. He was eventually arrested for making a false bomb threat.
Making bomb threats at an airport is obviously very serious and could lead to federal charges. So far, however, Smith has escaped such charges.
The general manager of the 49ers, Trent Baalke, released a statement about the incident. "We are disappointed to learn of the incident today involving Aldon Smith," the statement read. "As this is a pending legal matter and we are still gathering the pertinent facts, we will have no further comment."
The talented linebacker was absent for five games last season to get treatment for substance abuse but rejoined the team last November.
Read more at CBS News.