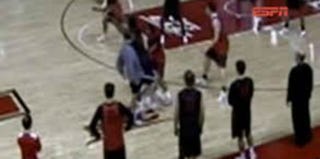 A recently surfaced video showing Rutgers head coach Mike Rice being verbally and physically abusive elicited two main reactions: 1) That's not OK, and 2) How does this guy still have a job?
That question now has an answer: He doesn't. Just one day after the practice footage was shown on the ESPN program Outside the Lines, Rice has been fired by the school, NBC Sports reports.
One day after footage of his behavior during practices was shown on the ESPN program Outside the Lines, Rutgers men's basketball coach Mike Rice has been fired by the school as originally reported by multiple outlets.

In three seasons at the school Rice, formerly the head coach at Robert Morris, posted an overall record of 44-51 but managed to go just 16-38 in Big East play.

Despite the lack of on-court success it's the video footage of abusive behavior in practices that led to Rice's ouster.

Allegations of abusive behavior made by former Rutgers director of basketball development Eric Murdock, whose contract was not renewed by the school following the 2011-12 season. In the video shown by ESPN Rice is seen throwing basketballs at players and using profane language, including a homophobic slur.

After originally viewing the tapes athletic director Tim Pernetti suspended Rice for three games, fined him $75,000 and ordered him to undergo sensitivity training.

Once the public saw the video and realized the severity of Rice's actions it became clear to many that the original punishment did not fit.
Read more at NBC News.