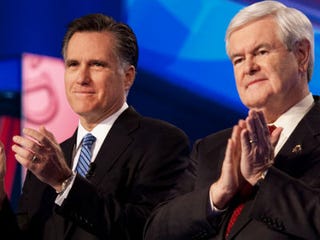 Mitt Romney is on his way to a huge primary win in Florida, according to the Washington Post.
The former Massachusetts governor is currently close to 15 percentage points ahead of his main rival, Newt Gingrich, in polls. The Quinnipiac University Poll showed Romney leading 43 percent to Gingrich's 29.
Gingrich, whose campaign was resurrected after he beat Romney in South Carolina, may soon have to think about working on his bowing-out speech. Despite Gingrich's flurry of negative attacks on Romney in the last few days, calling him a liar and liberal, the Georgia statesman has been unable to strike a chord with Florida voters.

It appears that the Republican Party is finally realizing that the only viable candidate to compete with President Obama is Romney. We can't wait to see the fundraising wars to come between the two.
Read more at the Washington Post.
Like The Root on Facebook. Follow us on Twitter.