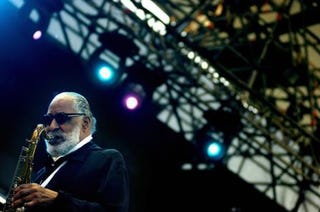 Sonny Rollins is called "jazz's greatest living saxophonist" so routinely that it is almost a nickname and probably a curse. Yet his new recording, Road Shows, Vol. 1 (Doxy/Emarcy), is another affirmation of his greatness and may be a sign that the curse is lifting.  
The recording is a compilation of highlights from Rollins' live performances over the past 30 years. That should warm the cockles in the hearts of every jazz fan. Rollins' concerts are consistent letdowns—not because the music isn't great, but because some of it is sublime. At almost every one of his shows—even now at the age of 78—there is a moment of absolute transcendence. It will come during one of his solos and serve as a reminder of the magnificent beauty and power that come together in the tenor saxophone as well as the magic possessed by a master improviser at the peak of his powers. Then the moment ends, and the remaining 75—sometimes 90—minutes of high-level jazz feel almost pedestrian in comparison to the three to five minutes of near-religious ecstasy.  
Road Shows, Vol. 1 allows listeners to recapture those moments, with seven tour de force performances. On the opening track, "Best Wishes," Rollins' greatness is abundant at once. His broad, commanding tone intercepts a blithe, easygoing tune and turns it into an overwhelming soliloquy of choruses, each new one cascading with melodic and rhythmic ideas. Another highlight among a disc full of them is "Blossom," a 1980 performance of a song that has not appeared on any of Rollins' previous recordings. It's a burner, with Rollins and the band playing as if the Swedish concert hall where it was recorded was a small nightclub and they wanted everyone on their feet by the end of the tune. And though Rollins leads the compilation with uptempo tunes, some of his best work comes on ballads. "Easy Living" and "Some Enchanted Evening" highlight the delicacy of his majestic sound, turning the brute force of his playing into elegant layers of luxury.  
Rollins has been shadowboxing his own formidable legend for decades, and he likes it that way. During a 1986 interview, he told me, "It's not about grasping the ring, it's about extending yourself toward it; if you're true to yourself, you never reach a level where you get a firm hold on greatness."  
He was born in Manhattan in 1930 and grew up with musical mentors like Bud Powell and Thelonious Monk as neighbors. When he was barely into his twenties, he played in bands led by those legendary pianists and other jazz greats like Miles Davis, Art Blakey and Tadd Dameron. In the mid-'50s he joined a band co-led by drummer Max Roach and trumpeter Clifford Brown and solidified one of the finest ensembles in jazz history. By the time Rollins began making recordings under his own name, he had absorbed a rare chunk of jazz greatness, and it was immediately reflected in his work. From 1956 to '59, one classic recording after another roared out of his horn; Saxophone Colossus, Newk's Time, Way Out West, A Night at the Village Vanguard and Freedom Suite were all from that fertile period. 
Then, abruptly, he stopped. It wasn't good enough. He retired from recording and performing for three years to hone his skills. During this time he was even seen rehearsing on the walkway of the Williamsburg Bridge (it was not an urban legend; Rollins says that he didn't want to disturb the neighbors in his Lower East Side apartment building). He  returned and made another series of extraordinary discs, but since the early '70s, his recordings have been pleasant and enjoyable though well short of the tell-all-your-friends kind of sizzle embodied in his early work.
Until now. Road Shows, Vol. 1 marks the re-emergence of Sonny Rollins. He told me very haltingly that he found it "painful" to listen to his earlier recordings and that that had been one of the reasons his concert recordings have been few and far between since those classic Nights at the Vanguard 50 years ago.Perhaps 9/11 changed Rollins. He lived in Tribeca, just a few blocks from the World Trade Center, and had to be evacuated from the area after a night without electricity. He had a concert scheduled in Boston that weekend, and he made the gig (he felt it was an obligation to his fans). The concert was recorded by Carl Smith, a rabid jazz collector who has gathered and sometimes surreptitiously recorded Rollins' performances for decades. Rollins listened to Smith's tapes and consented to an official release of the concert, which became Without a Song: The 9/11 Concert (Milestone).  
Since then, Rollins has been unusually active. He started his own label, Doxy, a few years ago, and last fall he celebrated the 50th anniversary of his first Carnegie Hall appearance by revisiting some of his repertoire from that show with legendary drummer Roy Haynes and top-tier bassist Christian McBride. Several more volumes of the Road Shows series will be culled from Smith's tapes. It seems odd to talk of a 78-year-old jazz legend embarking on a new, exciting phase of his work, but Rollins hasn't grasped that ring yet and he's clearly not about to stop trying.  
Martin Johnson is a regular contributor to The Root. 
Martin Johnson writes about music for the Wall Street Journal, basketball for Slate and beer for Eater, and he blogs at both the Joy of Cheese and Rotations. Follow him on Twitter.