I've tried to avoid the hype. I don't wear Che T-shirts, and there are no pictures of Che Guevara on my walls. Although I spent 10 years researching the Argentine doctor-turned revolutionary, I don't know if I'll go see Steven Soderbergh's four-hour biopic, Che, based on the real-life adventures of Ernesto "Che" Guevara.
I know how this story ends. I also have some idea of the process and frustrations the filmmakers might have gone through. I spent thousands of dollars of my meager savings to do a documentary titled From Ernesto to Che.
I was less interested in the hero or icon and more interested in Ernesto the man. I made it my goal to cut through the romantic idealism of revolutionary aspirations, hammered during my college years in the 1980s, and peel away to reach the human being inside the icon; "Che" (which in Argentine Spanish, in his time, translated into "Hey, you!"). At the end, I did not have a completed movie but a clear picture of Ernesto that was infinitely more complex than a Hollywood-fueled mythology.
When I first decided tackle the project in 2000, I was working in television programming, a voyeuristic job that doesn't provide the hands-on excitement of production. I was also in my what-next 30s, and I was restless. During one of my annual sojourns to Los Angeles, an actor friend showed me his driver's license photo. He was totally bearded, which he never wore on screen. He said it was his "Che Guevara look." Something went off in my head.
G/O Media may get a commission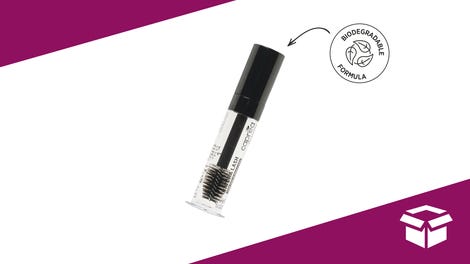 It's $8
20% Off Lash + Eyebrow Serum 2.0 - Caprea Beauty
I had recalled my college years, when debates raged on and off campus about divestment from South Africa to end apartheid, "U.S. Out of El Salvador," the King holiday, as well as the Reagan Revolution, Evita the musical and Che. It had been over 25 years after his execution, but somehow his legacy was sticking it out with the rest.  
When I decided to pursue the documentary, my first stop was Cuba. I stayed 10 days at the Havana International Film Festival of Latin American Cinema. Afro-Cubans I met of revolutionary age (that's 50 years ago this year) gave glowing testimonials toward Ernesto. Many of them attributed their education, exposure and personal uplift to encounters with the revolutionary Che. These were wonderful stories, but still, I felt the human being was all but lost in a larger-than-life figure.  
My lack of fluency in Spanish was a hindrance. But I was able to pass for Afro-Cuban. In the heavy tourist areas, I had access to "backdoors" for natives but was restricted in the airport and in public areas of exclusive hotels if I didn't have a proper guest escort or ID. I also got disapproving looks from waiters when I sat down to eat with white American or European tourists. I had little to no personal experience with this kind of regulated segregation or explicit racism. One day, I found myself crying on a bench on the patio of the Hotel Nacional. 
I decided to turn this situation to my advantage. By spending more time with native Cubans, I realized I could go where tourists couldn't and could choose to have an authentic cultural experience. But that yielded little in terms of what I was seeking for my documentary project. A trip to Ernesto's native Argentina was necessary. A year later, I contacted an Argentine anthropological filmmaker I met in Havana, Ana Zanotti. I proposed paying for her expenses in exchange for her assistance as an interpreter and guide in Argentina. Thankfully, she agreed.  
It was Celia who set the bohemian tone in the houses the Guevaras lived in. Due to their precarious financial situation, they moved around a lot. The Guevara children played with the richest and the poorest children in the neighborhood. She invited any and everyone into their home and treated them like guests. As his brother, Juan Martin said, "There were no rules and no limitations."  
We visited Ernesto's childhood home in Alta Gracia in the Cordoba province. Our first stop was at the Hotel Sierras, the posh country club estate where the Guevara parents spent many nights (from 7 p.m. to 4 a.m.), and their children played chess, swam in the pool and attended birthday parties. Alta Gracia was the place to fill your lungs with dry, fresh air especially if you had asthma, which plagued Ernesto since the age of 2.  
Ana and I found the Hotel Sierras to be a shell of its former life of casinos, carnivals, golf and upscale cocktail parties. Squatters had staked out spots in the deep interior of the abandoned building. We heard the tinny sounds of a transistor radio and walked over a gardening hose where water was being siphoned. We climbed onto the stone porch then down into the hotel kitchen. I would never do this at home. But we were feeling adventurous.  
The only resident left from the Guevara household in town was Rosario Lopez, Ernesto's nanny. We got her information from the house where Ernesto and his family lived, now the Museo de Ernesto Che Guevara. When we finally arrived at Rosario's house, we found an elderly, arthritic woman out and about in her yard. We told her the Museo sent us over and about my project. 
She asked for our identification. I suppose being from the United States—someone who came this far to see her—made a difference. Rosario agreed to be videotaped but went inside her house to put in her dentures and make a few cosmetic adjustments. She was a woman of strong Christian faith even though Ernesto was essentially an atheist. Her eyes welled up talking about Ernesto, a little boy who sat in her kitchen inhaling smoldering tobacco leaves to relieve his asthma attacks; the little boy who shared his books of pirate adventures, chivalry and martyrs with her; who bought her ice cream because his asthma prevented him from eating dairy products.  
The film From Ernesto to Che never got made. I couldn't sink any more money into because of other financial priorities. Other options for funding were unavailable especially after 9/11. There comes a point in time when you have to know when to stop.  
Regardless, Ernesto provided a wonderful portal for me to experience the Americas and even broaden my sense of "American" identity as Ernesto's early travels did for him. "Wandering around our America with a capital A has changed me more than I thought," he wrote in his Motorcycle Diaries. 
I am a U.S. citizen but also a child of the Americas with African, European and indigenous roots. In this hemisphere, we share a common history of encounters if not language. We are believers in new beginnings and the reinvention of ourselves and our destinies. And despite everything, there's always a common desire to be better than we were.  
Who knows whether I'll ever go see the film? Today, for some reason four hours of Che seems like an eternity compared to 10 years of chasing Ernesto. 
Michon Boston is a writer, producer, and outreach consultant in Washington, D.C. This article is dedicated to the late Dolores Moyano Martin, a childhood friend of Ernesto's, whose research assistance was invaluable, and to all Ernesto's Argentine friends I met along the way.