If you're a hip-hop fan, then you are as familiar with the trajectory of the Game as any other artist out there. Game hit the scene in 2005 with his debut album, The Documentary, which is easy to call a classic for its incredible beats and top-shelf lyricism and the effect of the 50 Cent/G-Unit juggernaut propelling it to five-times-platinum status. Game, like 50, was a superstar and he knew it. He had the Compton/Bompton backstory, the gang bona fides, the at-the-time victim-of-violence street cred, the Dr. Dre co-sign and the West Coast on his back.
And then he and 50 bumped heads. And then he got booted from G-Unit. And then he started running his mouth. And then he lost Dr. Dre in his corner. Then Aftermath. Etc., etc., etc. The Game, through a series of oddball decisions and beef with anybody who would be willing to beef with him, became known more for his persona than the music.
Which wasn't necessarily a bad thing, because he suffered from a similar Nas problem: great lyricist with some questionable beat choices, rendering several of his albums as solid but largely forgettable after the albums cycle. Although The Doctor's Advocate, LAX, The R.E.D. Album and Jesus Piece had their super-high moments—the Game, after all, is a much, much better-than-average rapper—nothing is coming close to the impact and replay value of that debut album. It's Game's Illmatic moment.
Then Game dropped The Documentary 2.
This s—t is brackin.
I haven't enjoyed an album this much since Chance the Rapper's Acid Rap back in 2013 and Kanye's My Beautiful Dark Twisted Fantasy before that. I've played it on repeat since my boy suggested I give it a spin on its release date.
G/O Media may get a commission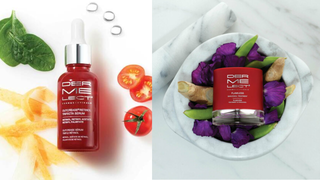 Save $19
Retinol Renewal Kit
Game sounds comfortable. He sounds confident. He sounds like he knows he's released the best music of his career. The beats are murder. The perfect samples. He brought along all of his favorite people. Game is not only the most name-dropping-ass rapper of all time, but he's also hip-hop's biggest, unapologetic superfan. And it works because he can rap his ass off.
It's also one of the most West Coast- and Blood-heavy albums to be released in eons. We all know Game's backstory and that he's a Cedar Block Piru, and he goes full gangster all over this album. I didn't count, but I'm sure the words "Blood" and "Piru" are mentioned nearly 100 times. It reminds me of when DJ Quik back in 1995 released Safe + Sound, which was full of Blood symbolism (Quik is a member of Tree Top Pirus, though he famously made a song called "I'm Not a Gangsta" while trying to beat a court case where his gang affiliations were tossed around). That album was Quik's best entire work, in my opinion, by the way.
But forget the gang stuff. What makes The Documentary 2 so great is how enjoyable it is to listen to. The beats all fit well together and transition well, though it's bloated at 17 tracks, and I could do without "Bitch You Ain't S—t" and "Hashtag" in particular. Game's lyricism is even stepped up a bit. He's got Dre and Premier and will.i.am (who is going to be worthy of his own Unsung episode one day) on production, and appearances from Kendrick Lamar, Kanye West, Future, Dej Loaf and Ice Cube, among a million others.
But nobody plays more central a role than Game. It's as full and developed an album as you'll hear today, and it's got artistic depth. It's got every single thing that Kendrick Lamar had in To Pimp a Butterfly—plus, it's an enjoyable listen.
All I keep thinking about when I listen to The Documentary 2 is what would happen if Kendrick had those beats. S—t, Dr. Dre released Compton this year to much fanfare but a quick fizzle once people realized the album was more exciting for existing than for its actual parts, and Game's album contains a song called "L.A.," which I'd put money on was originally the intro or outro to Dre's album. It fits sonically and would have been the perfect opener or closer. It would immediately have been the best song on the entire project.
I realize that Kendrick's album is as much a political statement as it is an album. Music is his medium, and he dropped his message via TPAB. And that message might not need the prettiest wrapping. Sometimes you need to capture the mood, and that's what Kendrick did perfectly. But when I listen to Game's album, I think that Kendrick could have accomplished everything he did with TPAB with a similar soundscape that people would still be listening to today. Sure, "Alright" is the rallying cry across the nation for black folks marching for our rights, but that doesn't mean I listen to the song any other time. either.
Kendrick made a musical album of which he was the focal point, and he just so happened to be a rapper. When I first wrote about it, I likened it to D'Angelo's Black Messiah album in its tone and intent. Game made a very hip-hop album with noticeable samples and boom-bap drums, and borrowed the tone and flows from any and everybody, so maybe that distinction is enough for me to shut the f—k up.
I'm glad Kendrick made TPAB because what I want more than anything is for Kendrick to get all of the acclaim and to take his rightful spot as the best rapper alive right now. I just wish I liked it more. I wish I didn't have to appreciate it and then never really listen to it again. I wish I didn't feel a need to speak of it in terms of what it represents without really talking about how any of the songs knocks in the car. I want the beats, rhymes and life. I want Kendrick to have Game's ear for beats.
Because what I know about Game's album is that s—t's brackin and it's been on repeat in every place I listen to music for days, and I don't see that stopping, whereas Kendrick made the best piece of music-art we've heard in a while, and I haven't listened to it in months.
Ultimately, I want to both love and listen to my favorite albums.
Is that so much to ask?
Panama Jackson is the co-founder and senior editor of VerySmartBrothas.com. He lives in Washington, D.C., and believes the children are our future.