"Belief is a heart project" —Oprah Winfrey
Very few of us can connect people the way Oprah can. She has a gift for helping the rest of us look deep within and challenge ourselves.
She has the ability to push us to go higher. To dig deep within. And to want to live more authentic and powerful lives.
In the late 1980s and through the 1990s, her award-winning talk show helped to change how we "heal" and "confront" our personal and family dysfunctions. She has taken us through our highs and lows. She has helped us to look in a mirror. She has helped us to see one another as the flawed beings we are, in need of grace and forgiveness.
Yet, nothing Oprah has done to date is as powerful, and probably as impactful, as her new series, Belief, which starts Sunday at 8 p.m. ET on her cable network, OWN.
The series operates as a thread to connect us beyond our religious practices and rituals. It touches the soul landscape and reminds us that we are all one, that we are all human, that we all breathe the same air. And that we all want the same things from our living: Love. Connection. Family. Peace. Joy. And faith in something bigger than ourselves.
G/O Media may get a commission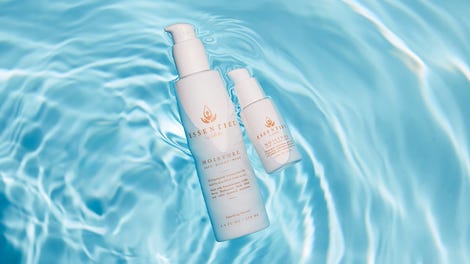 20% off
Essentiel by Adele
The Root had a chance to attend the premiere of Belief in New York City on Wednesday. Those attending were a veritable who's who, among them Oscar-winning rapper Common, Barbara Walters, Deepak Chopra, Selma director Ava DuVernay, Huffington Post Editor-in-Chief Arianna Huffington and, of course, Oprah herself. The first part of the series opens with a powerful voice-over from Oprah talking about what humans have in common. No matter where we may live on the planet Earth, or what we may believe in, the truth is that at some point we all believe.
Oprah shared with the audience that when OWN was a struggling network and she was searching for the sweet spot for its audience, she had to "redefine" her program and find out not only what her core audience wanted to watch on television but also how those viewers could be "transformed" by television that "really matters."
The seven-part series is done in the vein of the BBC-created Planet Earth series. The Belief series is indeed epic, and powerful. It should be watched on the big screen. I highly recommend watching the series with your family and within your faith communities. It should spark powerful discussions about who we are, what we believe and how we can use the beliefs to better live, love and lead in our daily lives.
The premiere, presented in four equal segments, focuses on four individuals (or families). The first segment deals with an African-American female college student and her journey to rediscovering her faith after being the victim of a crime. The second segment deals with a young woman from India, who leaves her job as an information technology worker in Chicago to return to India to find her faith connection at a ritual cleansing of Hindus in the River Ganges. Every 12 years, about 70 million Hindus assemble in the largest religious gathering in the world—the Kumbh Mela—to immerse themselves in the sacred waters of the Ganges, to cleanse themselves of their sins and be blessed by the river goddess Ganga.
The third segment focuses on an Aboriginal man and his grandson in northern Australia, exploring efforts to pass on worship rituals that are in danger of dying out. And finally, we meet a wonderful young Jewish boy in Budapest, Hungary (a country where more than 70 percent of the Jewish population was killed in the Holocaust), who is about to celebrate his passage to manhood with his bar mitzvah.
What makes Belief so different from the popular Super Soul Sunday or Lifeclass series on OWN is that it is a search across the faith spectrum for how people practice their beliefs. How we connect with God, or a higher being. How we live out our beliefs. And how we pass them down to our offspring for transmission to the generations to come. The series will air over seven nights, only on OWN.
Sophia A. Nelson is an award-winning journalist and author of the best-selling book The Woman Code: 20 Powerful Keys to Unlock Your Life. Follow her on Twitter.